There is an air of uncertainty on the street with regard to SiriusXM.  A cusory look shows a company that is in great shape, make a lot of money, and is in control of its own destiny.  A deeper look shows a company who's costs are shaved as much as they can be, revenue that is flatter than we have seen in the past, and profits that are flattening out.  Is this just an anomoly or is it the new SiriusXM?  The answer to that question will play out in the months ahead.
The technicals are not very pretty at the moment.  In my opinion we are at or near the bottom, but that does not mean that we suddenly rise.  It is frustrating to say the least.  The auto sector is flattening out, and the connected car is now entering the thoughts of the street.  SiriusXM is decently positioned, but that does not mean that the company is free from risk.  Lastly, the street is still going to wait to see what Liberty does.
What we want to see is good volume on a move up.  If there was any level of street confidence in this equity it would make a run.  the fact that it has not done so should be enough to tell you that, once again, this company needs to prove itself.  We have modest support at $3.  We have no real resistance until $3.38.
Volume

Support and Resistance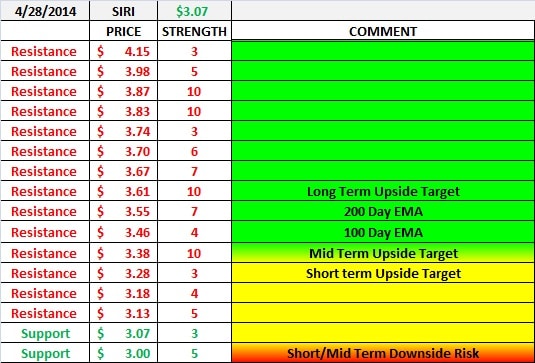 Exponential Moving Averages