We finally saw SiriusXM test $3.00 during regular market hours today!  That is the good news.  The bad news is that the equity could not hold that level and we are once again below the $3.00 level.  If you are expecting an easy run to $3.25 you are mistaken.  It will take news and volume to deliver that, and with the end of the year coming selling pressure may increase for tax reasons.  $3.25 can happen, but it will need to be a compelling move.  Right now we need to concentrate on $3.00 and then worry about the next run!
Volume
While the action today was on high volume, it was not compelling enough or strong enough to keep the equity above the $3.00 level.  In the near term it will take 100 million shares as well as some news to deliver a $3 hit and have the company stay above that level for a meaningful amount of time.  This does not mean that the equity will sink, it simply means that there is "work to do".

What we want to watch is how the equity reacts at certain levels.  Today the equity spent a good chunk of the day bouncing off of and retesting the $3.00 level.  At the end of the day it gave up the fight and closed 4 cents below the $3 level.  If volume starts to lighten up then we could be looking at a near term crest.  Watch for volume of 60 million as a signal that the equity is cresting.
Support and Resistance
The resistance level at $2.95 was taken out.  It now sits as support at $2.94.  Watch that level closely, as the equity is very close to it.  We appear to have consolidation with a bullish bias at this point.  Essentially if we drift it will be sideways and up.  There is an opportunity for a few pennies here for a savvy trader, but I would be on the sidelines waiting to see the signals that would initiate a buy.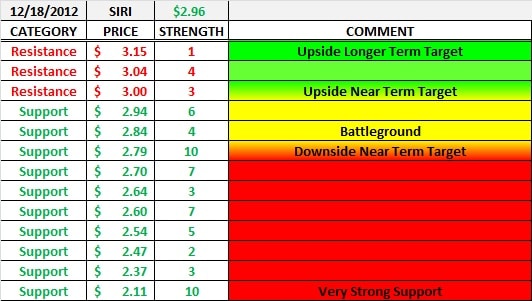 What I am watching is $2.94 and $3.00.  I am also looking for the volume to be behind a bolder move.  In my mock account I still have $1,400 to work with.  I am not in a rush to invest it and can be patient.  There is always a danger after a nice run that an equity will settle down.  I am willing to give up a few cents if I get greater certainty on a move.
Exponential Moving Averages - EMA's
The EMA's are looking even better today than they did yesterday.  We have added wiggle room between the various averages, and very little risk of any immediate caution flags.  This essentially outlines a very bullish stance.  That is all great, but at the end of the day we need to consider the very real macro-economic situation we are in.  Thanks to the election we know that tax rates are set to increase with the new year.  This is a big consideration for many.  Is it better to grab up a lower capital gain tax this year, then re-invest?  That decision rests with each individual investor.  I know that I am seriously considering a sell of everything to get the better tax rate and then reset it again to deal with the new rate down the road.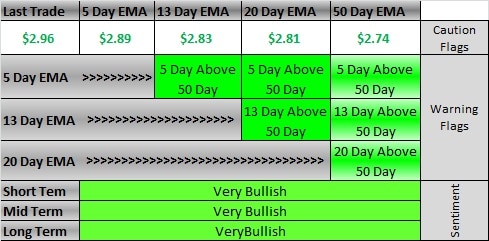 What we want to see is the stock keep above the 5 day EMA.  As long as it does this it will keep the wiggle room in place.  Pay attention to reaction off of $2.94.  We are riding above all moving averages right now, and that action typically does not last long.  Dipping into the $2.80's again is a distinct possibility once a crest happens.
Mock Account
My strategy is to sit on cash and await a dip or await a pop on big volume.  I will not touch this on a rise unless it breaks $3 on volume that equates to over 100 million shares.  I do not buy on the downside until I have more information to work with.  Essentially I am waiting for the equity to give a signal.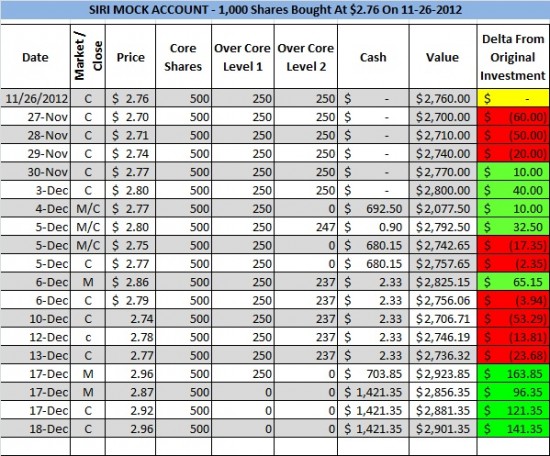 Summary
$3.00 is more of a challenge than many think.  I think that SIRI will pass this level for the longer term as we get into 2013.  SiriusXM could set up a 1-2-3 punch with news, so pay attention to the wires.