The snooze fest continues.  This is where we need to pay attention.  Volume was all the way down to 26.9 million, support levels are consolidating and giving us a better foundation, and the EMA's are constricting.  The 50 day EMA is fast approaching $3.60.
Hey you... open your eyes... wake up. All kidding aside.  Yes, this is boring action, but attention to detail is where you can make a great play.
We want to watch the volume.  It can not remain this low for very long.
We want to watch the support at  $3.77.  It is just below the current level, but is strong.  The goal is to be on the right side of $3.77 when the EMA's constrict.
We want to watch the EMA's.  The difference between the 50 day and the 5 day is now 22 cents.  As this gap tightens up it tends to cause a substantial move.  Full constriction could be about a week and a half away.  At that point the direction (absent news or macro-economic situations) of the next bold move will likely depend on which side of $3.77 we are on.
Volume 

Support and Resistance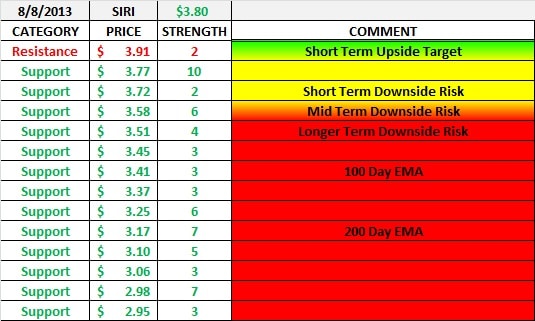 Exponential Moving Averages