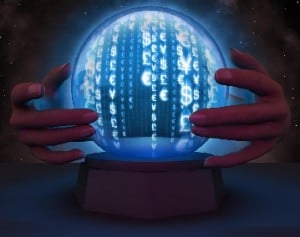 Well, 2013 is drawing to a close and while there were many with hopes of seeing $3.00 at this point it appears that it may be one Christmas wish that will not come to fruition.  There is only one full trading day left this year, and with many people still on holiday it would appear that we are in for yet another day of range trading and low volume.
SiriusXM is drifting down slightly.  It is not signaling any real warning bells, but the action/sentiment of the near term has had a bearish bias of late.  Fear not, there are many positives that can develop in 2013.  the question is whether or not the equity can realize these positives in the near term.
Longer term I am bullish on the SiriusXM story, but that does not preclude a small reset prior to a run.  If SiriusXM were to test into the $2.80's it could present a great opportunity to use some of that dry powder.  As I indicated I am waiting to see if this equity breaks below 42.87 before thinking about pulling any trigger on this bearish bias period.
Volume
Volume is still well below average, but is creeping up higher with each trading session.  One thing this does is allow the high trading volume days get absorbed into the averages.  Essentially a move with meaning no longer requires massive volume of over 100 million shares to show strength.  Strength is now shown and demonstrated at about 70 million shares.

One interesting aspect of the action tomorrow is whether tax sales happen.  It could bring in some selling pressure, but in my opinion most of those selling for this reason have already done so.  I look for light to moderate volume in tomorrows trading.  Be aware of the volume at key levels.  Watch $2.89 closely.  If that fails watch $2.83.  On the upside watch $2.95.
Support and Resistance
Support and resistance has not changed very much over the past few days.  We still have support at $2.83 and resistance at $2.95.  SiriusXM is stuck in a narrow trading range as shown in the chart.  Compelling moves are those that happen on volume.  Watch volume at the key levels carefully.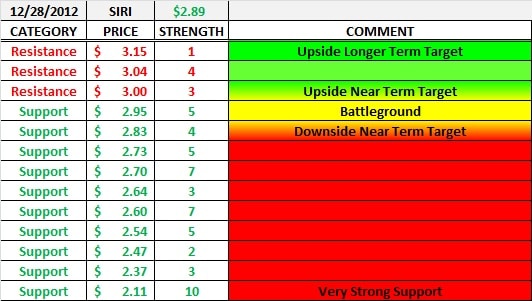 As stated, the current level at $2.89 is a key level.  It represents the 13 day EMA.  Be aware of $2.87 just below....this is the 20 day EMA.  Essentially these also act as support levels of sorts.  This is why I have honed in on $2.87.
Exponential Moving Averages - EMA's
The exponential moving averages are beginning to tighten up just a bit.  We still have one caution flag in effect at the 5 day EMA and are on the cusp of adding another at the 13 day average.  If SiriusXM closes below $2.89 the second flag develops.  A close of $2.86 brings on a third caution flag.  Do you see the possible bearish bias that is currently developing.  These are the types of signals that savvy active traders seek out.  Essentially I am already developing a strategy for breaking these EMA points intraday tomorrow.  This is why $2.87 is such a key level for me, as is the action at $2.89.  It is the difference between a buy at lower levels and a buy if the equity reverses the bearish short term trend.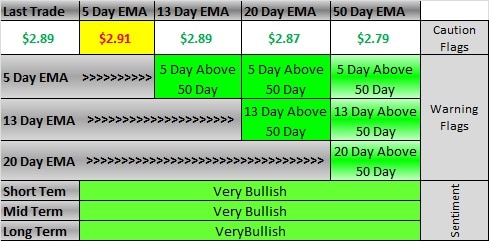 Mock Account
I did conduct activity in the mock account.  I had a dividend payment on 750 shares and added it to the cash on my mock account.  The account is still in the green and I have cash available to make a trade at the appropriate time.