If you are invested into SiriusXM you are likely looking for when this equity will pop once again.  While that is difficult to tell, the technicals will likely be the first source of a signal.  We have had some small runs on big volume, but not runs that actually maintain that volume.  What we should look for is a consolidation followed by some signs in the Exponential Moving Averages that point to a readiness to move.
Right now the EMA's are all within 9 cents of each other, and one caution flag is out of the way.  Today we will likely see a second caution flag removed if we can get Sirius XM to close at $3.70 or better.  The likely consolidation point of the EMA's should be about $3.75.  Essentially the story is to wait out the Thanksgiving Holiday.  There is one caution day.  The market will be open on Black Friday.  That day typically has light volume and can be volatile.  Thus, it is possible that we set up the EMA's to look real good next week.  To happen we want a close of $3.70 or better today, with a close of $3.75 or better on Friday.
Have a Happy Thanksgiving Everyone!
Volume

Support and Resistance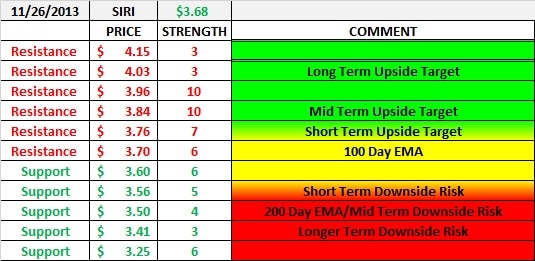 Exponential Moving Averages