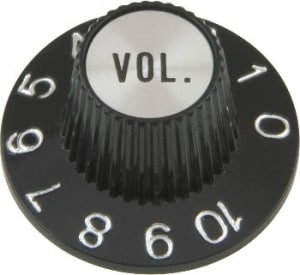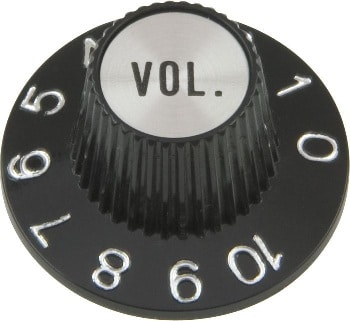 What a difference a day makes!  SiriusXM (NASDAQ:SIRI) went from an impressive volume day on Monday with nearly 100 million shares trading to a sub par volume day today with a lower than average 35 million shares trading hands.  It was a pretty incredible dynamic to watch, but more likely than not the volume spike on Monday is attributable to some entity doing a very patient and controlled buy.  Not an every day occurrence, but it will get absorbed into the technicals, so it is simply yet another piece of data to consider.
Before moving on I would like to take a moment to make some things crystal clear.  Technical analysis is far from being an exact science.  It is actually somewhat of an art rather than a science, and it simply gives you indicators that historically have outlined certain behaviors.  There are many things that can impact technicals, such as news, the economy, elections, and even a big buyer or seller.  What investors can use technicals for is not defining an exact price on a particular date, but a tendency to behave in a certain and hopefully predictable manner.  Amazingly there seems to be quite a debate on whether this stock will test $2.40 vs the fact that it happened to hit $2.56 intraday on Monday.  Readers that are looking for these types of analysis should simply stop reading now, get to a library or Amazon and buy a book outlining the usefulness of technicals.  You can always hop back to the site at a later date.
Volume 
It would appear that the party that happened Monday had SiriusXM Hits 1 on too loud and a neighbor complained.  The equity is now doing some easy listening on Coffee House!  From 100 million to 35 million in 24 hours!  pretty interesting event, but what does it mean?

SiriusXM is likely still in consolidation mode.  yes, it may even be drifting a bit.  The equity failed to break a key resistance level on high volume Monday, but held the line at a resistance point on low volume today.  For those that are still here, and understand the dynamics of technicals, the key we are looking for is a move that breaks either support or resistance on above average volume.  Touching $2.56 on Monday was great, but it did not hold it, support it, or break it.  It fell back down below it.  It is interesting seeing how narrow the trading range has been on SIRI over the last few sessions.
Support and Resistance
I have made some minor, yet important changes in the support and resistance.  The most notable change is that the strength at $2.27 is now a very solid wall at $2.27.  Essentially with the recent behavior, some of the support at $2.20 has migrated up the ladder.  This is a very big positive, as it demonstrates very strong support at the 50 day exponential moving average.  Another change was that resistance at $2.60 and above is getting stronger as well.  This means that it will take energy to get to moves higher that some are anticipating in the nearer term.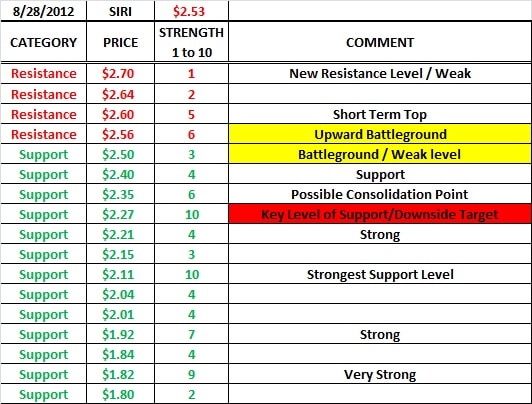 The key right now is the battleground happening between $2.50 and $2.56.  At some point something is going to give.  To the upside is a wall developing at $2.56 and then $2.60.  To the downside is a small wall at $2.50 and then $2.40.  Thus, my call that $2.40 as a potential downside risk remains.  For clarity sake, what that means is that the equity can test a $2.40 level because it is the stronger support below.  It does not mean that I am bearish the equity.  I am not sure how many times I can use the word consolidation and still be misunderstood!
We have seen SiriusXM try to test $2.56 on 100 million shares.  We have not seen it test below on substantial volume.  Let's hope we do not.  From a support and resistance standpoint I am looking at things a step or two at a time.  First the equity needs to topple $2.56, then topple $2.60.  This will take energy, and by energy I mean volume.  The more these resistance walls build, the harder it will be to test and hold levels like $2.75.  Positive news could be enough to send the equity up, but it needs to be more than a press release about a used car deal or college football.
Exponential Moving Averages (EMA's)
The EMA's have essentially remained the same with the one small exception that SiriusXM lost a little bit of the fine balance it had been exhibiting.  With a close at $2.53, we get a red flag in the first column of the EMA chart.  No, it is not the end of the world.  The EMA's are still very bullish in the short, medium, and long term.  What we are watching for is if it can once again widen the gaps between the averages, or if they continue to contract.

The key here are a close above $2.54.  That will allow the EMA's to remain all green.  Yesterday I warned that the 5 day average is creeping up close, so if we see a close below $2.49, it could give another caution.  Essentially we are in a wait and see mode.  Watch volume closely as well as how that volume relates to $2.56, and $2.50.
Summary
This equity is in a tight range, that in my opinion can only consolidate for another few days at most.  We need to see a move one way or the other.  If the equity can manage to hold this range until auto numbers are released, then the dangers of $2.40's are less substantial. In essence SiriusXM is an equity seeking a catalyst.  Certainly these reports will have critics.  It comes with the territory.  Interestingly, these critics typically bring little value to the table.  SiriusXM is still very much in a bullish trend.  That is the first thing most readers understand, and the critics seem to miss.  Happy Trading.