Let's, for a moment, shift away from the Liberty deal for a moment and look at this equity from a more isolated.  We are perhaps a couple of weeks away from an earnings call.  When SiriusXM reports earnings, the company is expected to meet or exceed all of its 2013 guidance.  On its face that seems good, but what we need to assess is how the street will react.  Essentially SiriusXM pre-announced the information, so, in theory it is built into the price of the stock.
The reality is that some numbers are going to be looked at with great scrutiny.   Subscribers will be negative in the quarter.  ARPU is going to be looked at, churn, and subscriber acquisition costs.  Some of these have seen less focus over the past few quarters, but I assure you, they will be looked at closely now.  The new GM deal has many ramifications on these metrics.  The street needs to "re-learn" what represents good numbers and what represents bad.  Over time, in theory, the GM deal will be good, but the street is going to need to learn what is good.
I say all of this because from a technical standpoint, SiriusXM is almost fully consolidated from an EMA standpoint.  When this happens, the equity usually makes a bold move in one direction or the other.  In my opinion, the Liberty situation puts a cap of sorts on upward momentum until we get a SiriusXM response, or more information.  Thus, the upward limit is about $3.84, while the downward pressure could take this equity back to $3.50.  In the very short term, the range is $3.63 to about $3.80.
Volume in yesterday's session was actually BELOW average.  It appears that most of the jockeying for position has occurred.  Watch the action today closely.  It could offer the first hints of where this equity will go from essentially a fully consolidated EMA chart.
Volume

Support and Resistance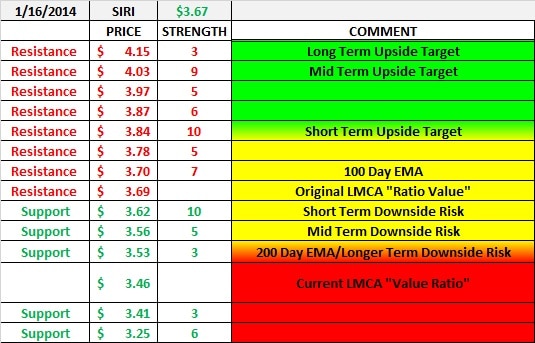 Exponential Moving Averages