This report is going to be very simple.  It is not that I want ignore support and resistance and volume, but instead that I want to focus on the exponential moving averages.
If SiriusXM can stay above $3.30 and build just a little foundation, we may possibly see a tipping point at about $3.36 or $3.36.  Looking at the EMA chart you can see that two caution flags evaporated today.  A positive sign.  Now look at the averages and imagine what a closing price of $3.35 a couple of times would do.  It would bring the 13 day and 20 day averages down, while pulling the 5 day up.  Once these averages converge the equity will move.
This process may take a little time, but what we are looking for is that the caution flags stay off.
Volume

Support and Resistance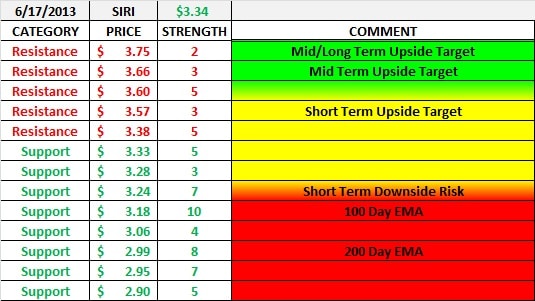 Exponential Moving Averages