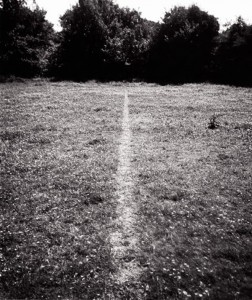 Not only is SiriusXM in a very narrow trading range, but it has remained in that range while still managing to hold onto bullish technical indicators.  I can not think of another time in recent trading that SiriusXM has been so choreographed for so long with potentially big news around the corner.  It is simply amazing.  If you do not believe that Liberty Media will gain de jure control at this point, you really need to consider that Malone is betting over $1 billion on FCC approval now!
Volume
SiriusXM traded down today on above average volume.  Typically that would be a concern, but of late, with Liberty holding a proverbial crutch, it has not really impacted the equity.  I had indicated to readers that we wanted to watch the behavior of this equity as it approached $2.50 or $2.56.  Yesterday the equity tested the high side a few times and failed to pass through.  Today the equity tested the low side, bounced off, and ranged all day on better than average volume.

So here is what we have.  The equity tested a support level on above average volume.  We want to see if that volume can hold.  With Liberty in the mix it can be difficult.  They have had share buys below 1 million, and share buys in the 10's of millions.  We should find out over the next couple of days whether or not Liberty was in the mix.
Support & Resistance
Support and resistance remained essentially the same as yesterday.  I did give resistance at $2.56 a bit more strength, but other than that we are in the same boat we were in yesterday.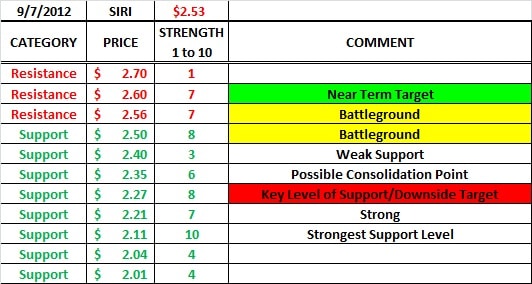 As before, the key is still $2.50 and $2.56.  Be aware of volume, and look at the potential impacts as they relate to the EMA's below.  Right now we essentially have a key support level right near the 5, 13, and 20 day EMA's.  Things do not get much tighter than this.
Exponential Moving Averages - EMA's
The EMA's are now tighter than a cork in a wine bottle.  We have mere pennies separating the closing price, 5, 13, and 20 day averages.  The wiggle room is all but evaporated, and now a close of $2.54 or better is needed on Monday to keep everything in the green.  Given that Liberty still has room to make buys, we could see exactly that.
As you can see, we are literally walking a line between bullish signals and bearish ones.  Another close at $2.53 and we will be as close as we can get to the edge of the cliff without falling over.  A close of $2.52, and the red starts to show up.  Monday is perhaps the biggest technical day we will have seen in the last few weeks.  With Karmazin speaking Wednesday, it could prove to be an interesting week.
Summary
It seems quite apparent that Liberty has been holding SIRI up.  Should the equity break below $2.50, it will not be the end of the world, but it could set up some trading action again.  Here is a tid-bit that you may find quite useful, and is a good reason to be a SiriusBuzz Premium member...  Liberty could be only about a week away from having to pause any buying activity.  Once Liberty pauses, this equity is poised to test lower levels.  However, if SiriusXM raises guidance, or there is other compelling news, we could test new highs.  If Liberty is done buying, and there is no news, the short traders will hop on and apply selling pressure.  All eyes are literally on Liberty.