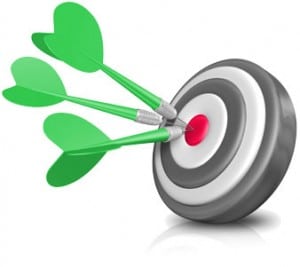 Okay, here is the situation.  SiriusXM started off the day on what I would consider below average volume and below recent volume.  That indicates that the current trading range is in tact.  As the day progressed, the volume picked up, and we closed the day out on above average volume with over 80 million shares crossing the board.  This is very important to note.  Remember how I had said that moves need to happen with conviction and strength?  That is what we saw in afternoon trading.  As with anything, you have to watch the events closely as they unfold.
What we have seen over the past three trading sessions was narrow ranges that were getting slightly higher each day.  As an example of how sensitive the dynamics are, I am more bullish in the short term this afternoon than I was just this morning.  Had this close at $2.84 happened on 50 million shares, I would still feel that the possible short term correction to the 20 day moving average had about a 30% chance.  Now I am at 20%.
There is the dynamic of options expiration that we also need to digest.  This Friday options expire.  This weighs into my thinking, as it creates volatility.  It is still something to bear in mind as the week progresses.  There are some adjustments to support and resistance as well as some news in the EMA's that you will want to look at.
Volume
Volume today was 86 million shares.  This is above the level that I felt we needed to see to give meaning to a move.  We got that, so it establishes a better support level moving forward.  What we are looking for now is continued volume.  The next step for this equity is $2.85, and to be real it needs to happen on 80 million shares.  What we are seeing now appears to be narrower pullbacks and narrow ranges of trading that are gaining ground each day.  This is very healthy as well as very bullish.  The stock is not coiling up, but rather continuing to reach higher.
The next keys to watch for is the volume that this equity trades at at $2.85 on the up side and $2.80 on the downside.  We also want to see if the equity can test above or below these levels.  Once it crosses either line you need to look to the next resistance or the next support.  Thankfully at this point the support and resistance at these levels is happening in 5 cent increments.
Support and Resistance
There are some key changes here.  First and foremost my near term price target is $2.90 now.  That means that I see $2.90 within the next 13 trading days.  My mid term price target is $3.00.  That equates to $3.00 in the next 20 to 50 trading days.  My long term (Q2 2012) remains at $3.25 but will be boosted as soon as the company releases 2013 guidance).
What we are seeing is SiriusXM bounce of of support levels and demonstrate an ability to test the waters above resistance levels.  It should be noted that the equity is trading above the 5, 13, 20, and 50 day averages at current levels.  While bullish, we want to look for a crest and peak.  The immediate downside risk is $2.75.  The immediate upside potential is $2.90.  If the equity breaks either of these levels on decent volume, the next respective level comes into play.  That would be $2.70 (the 13 day average) or $3.00.  Remember options, and how they impact things.  Testing $2.50 seems out of the cards, but flirting with $3.00 could be a suckers ploy.  Keep that in mind and watch the technicals.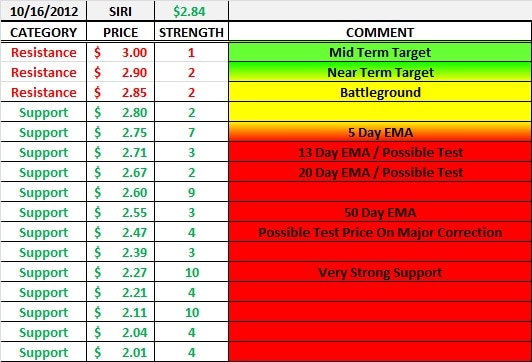 In review, the levels at $2.80 and $2.85 are key in conjunction with volume.  Be cautious of bold moves as this is options week.
Exponential Moving Averages - EMA's
The EMA's are spreading nicely.  The gaps are healthy and allow for trading ranges.  If the gaps get much bigger it could be a sign that the upside is stretching thin, but that is a few days off yet.  With SIRI, get cautious when we see 7 cent and 8 cent gaps in all ranges.  This chart remains bullish, and even stretched out a little bit.  We avoided coiling up, which could have taken us either way.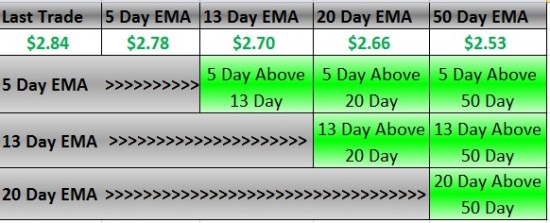 There is support at the 5 day average.  Bear that in mind.  It could stop short of testing the 13 day average on a dip.
Summary
While I am more bullish now, I always like to see things confirm before making a move.  The confirmation I would look for tomorrow is volume at $2.85 and testing above that level, or volume at $2.80 and testing below there.  The ranges have been narrow, so trading carries risks of being caught on the sidelines.  I would not want to be on the sidelines for the call, but more on that in another article.