Volume is still well above average but is drying up each day.  Are we near a bottom on this equity?  In my opinion the answer is yes.  At this point SiriusXM is oversold and undervalued.  The company story is not that sweet in the shorter term, but the longer term points to better days ahead.
This equity now will still have a slight "Liberty Overhang" associated with it.  That is uncertainty, and uncertainty breeds cautiousness.  Unless the company can post massive numbers, there is a ceiling of sorts on this.  I know that may not be what you want to hear, but it is what it is.
What we want to see is volume dry up and help to indicate a bottom.  I do believe a bottom is pretty much in, but confirmation is always nice.  The equity needs a 10 cent move up to take out a caution flag.  If two caution flags can come off, we may be seeing a reversal set up.  That being said, $3.50 is the near term top.
Volume 

Support and Resistance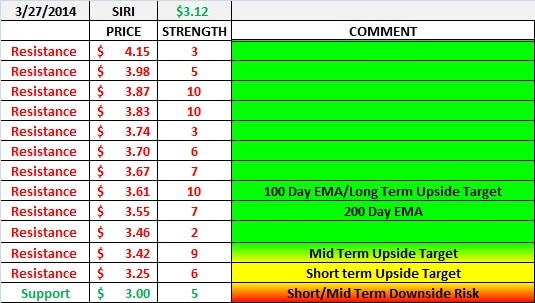 Exponential Moving Averages