It was an interesting day today.  The volume on SiriusXM literally evaporated out from under the equity.  The stock stayed in a range, closed above the 5 day EMA and held support lines.  In some ways this action seems bullish, in others bearish.  More likely than not it is pretty neutral and the bullish bias remains in tact.
Volume
SiriusXM only traded 36 million shares today, which is very light considering that volume this light has not happened since the holidays when it was expected.  What we want to see now is what happens with the volume tomorrow.  There is a possibility that buying pressures at levels above $3.15 simply does not exist right now.  If that is the case, then we are in store for some serious range trading.

The volume could be an anomaly, but realistically speaking things like this happen for a reason.  In my opinion this volume puts a short term cap on this equity at a maximum of $3.20 or so.  This cap will remain in place until the next newsworthy item is announced.  Stay tuned.
Support and Resistance
Support and resistance remains essentially the same.  Resistance ticked up to $3.19, and support is still strongest at or near $2.85.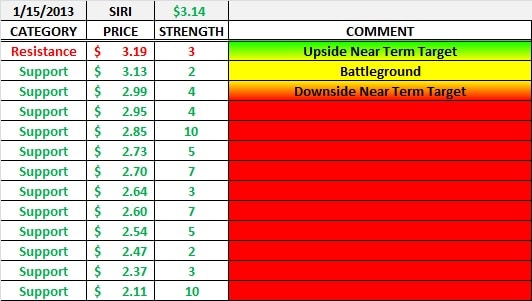 The key levels to watch remain $3.03, $3.08, $3.13, and $3.15.  Volume will be a key in determining whether SiriusXM can test higher levels.  We are still looking for heavy volume to return above $3.15.
Exponential Moving Averages - EMA's
Like the support and resistance the EMA's remain pretty much the same.  We maintain all green, three key levels above $3.00 and What we want to see is the company hold above the 5 day EMA at $3.13.  If that level breaks it is possible for a mini retracement / test  to $3.08 and the 13 day EMA.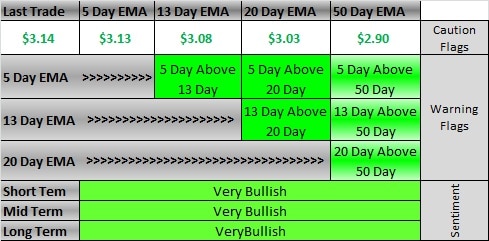 Overall the bias is still bullish.  It would appear at this point that the equity needs news to make the run.