Well the official news came out today.  SiriusXM is now under the control of Liberty Media.  From an equity perspective the change of control seems to not matter one iota as SiriusXM traded within its range on volume that is showing continued improvement toward normalcy.
Volume
SiriusXM is picking up a little bit of volume with each passing day.  While volume is still below normal, the equity is behaving like one that is range trading and waiting on a catalyst.  It would appear that the next possible catalyst will be the quarterly conference call, but the reality is that at this point it may not be that big of a catalyst.  SiriusXM has already announced subscribers and already stated that the met or exceeded all other guidance metrics.  It would take the company beating something by a wide and unexpected margin to be a driver.  This call may be more about the outlook than it will be about Q4.

What we want to see is volume get to normal levels.  We are almost at that point now and another session or two may get us there.  For a move above $3.20 we need to see volume above 75 million and preferably at 85 to 90 million.
Support and Resistance
These levels remain pretty much in tact with $3.20 being the hurdle above and $3.10 or so playing the safety net below.  We want to see how heavy the volume is at either of these levels.  This is especially true as we work our way into the quarterly call.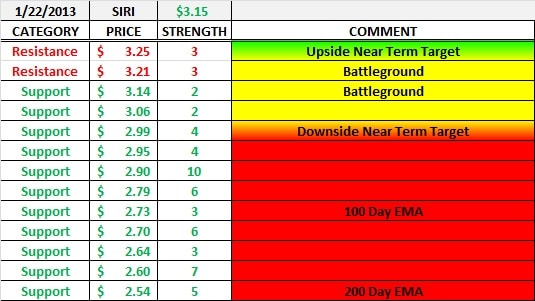 Key levels are the 20 day EMA at $3.07 and the support level at $3.06 just below.  If this equity happens to touch $3.05 it could drop down to the 50 day at $$2.93.  I do not think this will happen, but that is the dynamic.  At current trading levels the 5 day EMA at $3.14 is key.  Above the key is $3.20.  In my opinion this equity has a leach on it at least until the earnings call is digested.
Exponential Moving Averages - EMA's
The EMA's remain all green, but we are dangerously close to a caution flag at $3.14.  A close of $3.13, where the equity traded a lot of shares today, would bring on a caution.  I would carry no real significant worry unless SIRI shows that it will test $3.05 on heavy volume.  If you want to be more conservative pay attention at $3.09 or so, however, this equity can bounce a bit in this range.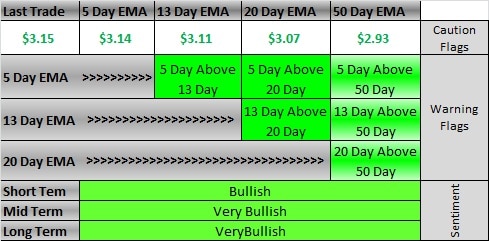 What we want to see is SIRI grow some wings and break past $3.15 on good volume with a test of $3.20.