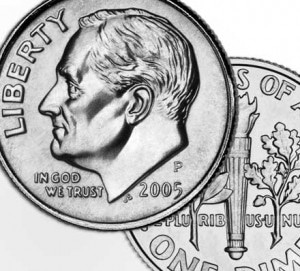 Have you ever heard the expression turning on a dime?  This is exactly what happens with SiriusXM.  Remember the big dip to $2.33 and then the big recovery to the $2.50 after?  If you had taken a couple of days off you may have missed it!  One thing I try to do here at SiriusBuzz Premium is to give you the tools, thought process, and confidence to read things in the market earlier than you otherwise might have.  I try to outline the positives and negatives, risks, and rewards.  It is not an easy thing to do, but with knowledge and practice, you can become more in tune with the company, the equity, and how it trades.
One of my worries yesterday was that the equity had tested below the support level during trading, and I expressed that you need to watch how this equity reacts around the $2.50 level.  My thoughts were that it would rise off of that, and in early trading it did.  However, it gave up, and then traded down on higher than average volume.  This is where things get interesting now.  The big question is whether SiriusXM will hold the line or move lower.
What we saw today was an equity close on its low of the day and we saw it happen on above average volume.  There are near term and long term considerations here.  Over the longer term I am bullish on SiriusXM.  I feel that $2.75 is not out of the equation, but that it can not happen until we get new guidance from the company.  In the near term, I have worries of another dime turning situation that could see this equity give up some proverbial coin before building itself back up.  It is almost as if SiriusXM wanted to prove the $2.50 without Liberty support, but in the end was unable to hold that level.
Volume
Well, the volume does not lie.  There was conviction behind this move.  SiriusXM passed through support on higher than average volume, and the problem is that the safety net below is not necessarily close.  Just two days into the week, and we have a situation on our proverbial hands in the short term.  SIRI traded some 66 million shares today.

The only real solace is that this volume is less than both the 5 day and 13 day averages.  Essentially we have had about a week of volatility comprised of high volume, low volume, and everything in between.  It is almost a Dr. Jeckyl and Mr. Hyde situation with SIRI!  What we want to watch for now is what kind of volume SIRI has tomorrow, and where it gravitates to.  There is support at about $2.40 thanks to the 50 day moving average, and resistance at $2.50.  It is possible that the equity tries to consolidate here, but I do not really see that happening since the moving averages are coiled tightly.  A move is in the cards.  Determining the direction is the key.
Support & Resistance
Okay.  We are in almost full reset mode here.  The behavior of the stock has the support and resistance levels in a quandary as well.  There are some weak intermediary levels in the chart, but at this point they are not even worth noting.  The big changes are - $2.75 has been downgraded from a near term target to an intermediate term target.  $2.60 is the new near term target.  Resistance at 2.50 is moderate, but we need time to assess it because it was broken with such ease.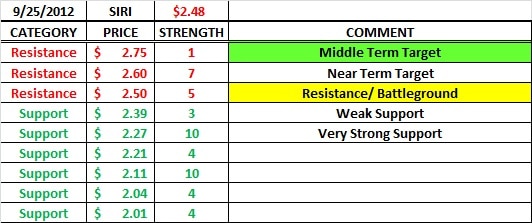 What we want to be cautious of is $2.40.  Support there is not very strong, but does correlate with the 50 day moving average.  When Sirius XM dipped into the $2.30's, the 50 day average was essentially where the equity stopped.  Let's consider history.  Is it likely that this equity will test $2.40?  I would say that the odds are seeming to indicate that.  Is it likely that this equity will test $2.27?  Less likely, but there is a chance.  On the flip side, $2.50 was a wall today, and now we have $the mid $2.50's building a wall as well.  What I see right now is greater strength to the upside and greater weakness to the down side.  The path of least resistance is down.
Exponential Moving Averages - EMA's
This is where  we get our bread and butter.  If you have been following along, the EMA's can give early signals that a shift is in the works.  For newer readers, the idea is that each moving average is higher than the next to be bullish.  When that does not happen, things turn bearish.  What we see today is that a caution flag arose at the 5 day and 13 day price points.  This is the first signal of trouble.

As you can imagine, a close tomorrow below $2.48 will bring the 5 day average down below the 13.  That is bearish in the near term.  We also run the risk of the 5 day dropping below the 20, as well as the 13 dropping below the 20.  As quickly as turning on a dime, we could see a couple of caution flags turn into 2 or 3 danger signals.  This is why I am now getting very cautious.  A Close above $2.50 will ease the worries, but we will still be in a spot where the equity is going to want to move.  This is where support and resistance come into play.  Support is weaker.
Summary
Longer term I am not worried.  Shorter term I am.  Entry points may be available here, but look for confirmations.  Be very aware of $2.40, and watch behavior around that price closely.  Watch $2.50 closely as well.  If it goes above $2.50 we want to see it happen on at least 72 million shares.