Wew are turning bullish.  SiriusXM saw a nice upward move, set up some good support and resistance levels, and removed the caution flags from the EMA's.  For long time readers, the signs are clear, but newer readers will want to note a few things.  I have long stated when the EMA's converge, it is a signal that a bigger move will happen.  This latest convergence of the EMA's was not without risk.  I felt it was very important that SiriusXM be above the strong support and resistance level at $3.63 when the convergence happened.  That is where we are now.
We got great auto sales, and a full August auto report will be published this evening.  The auto news was enough to bring about a positive day and set some nice situations up.  For the first time in a while we are developing a couple of decent support levels that minimize downside risk.  We now have strong support at $3.63 and moderate support at $3.56.  Both of these levels are above the 100 day EMA support level that was getting to be worrisome.  That is great news.  Above, we have moderate resistance at $3.73, which is my very short term upside target at the moment.
The EMA's are cleaning up nicely.  In fact, we are a few trading sessions away from more warning flags falling away from the chart.  What we want to watch for is increasing volume on upward moves.  If that happens we can have a stronger move to the upside that has a better chance of holding.
Volume 
Support and Resistance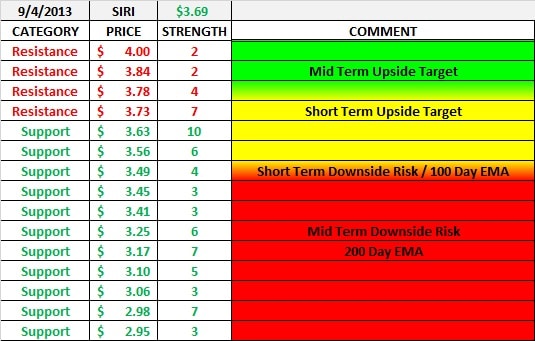 Exponential Moving Averages