I could have spent the day watching paint dry and it would have been more exciting than seeing the action with SiriusXM.  The equity diped into the mid $3.40's and recovered to close at $3.50.  Volume was modest, and the EMA's remain pretty much where they have been.  There is nothing overwhelmingly positive on SiriusXM, yet nothing that screams negative either.  In essence, this equity will be a slave to the overall economy and the news that impacts the markets as a whole.
I had a request to add the 200 day and/or the 100 day EMA's to the chart I do.  I have considered this action in the past, but it really does not offer the desired effect.  I do typically note where the 100 day and the 200 day EMA are in the support and resistance chart.  One thing I try to do with this analysis is to keep it simple.
Right now SiriusXM remains stuck in a small bearish trend.  It is hovering around the 200 day EMA and will continue to do so in the very near term.  This is a funk of sorts that will take a nice quarterly report to reverse.  Play it carefully.
Volume

Support and Resistance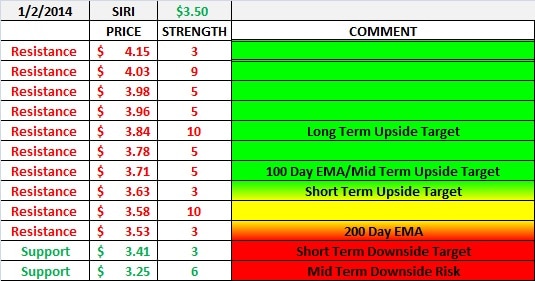 Exponential Moving Averages