I am back!  The wedding went very well, and the honeymoon was a blast.  I would like to thank all of you for your kind words and patience while I celebrated what was a fantastic time in my life.  SiriusXM stayed pretty tight in a range in my absence, and while the technicals do not look pretty, there could be early indications that we may see a consolidation of the EMA's and a move coming soon.
The volume on Friday was light, but heavier than the day before.  The action Thursday saw extremely low volume, which could indicate a bottom.  We saw the close remove one caution flag from the EMA chart.  We currently sit just below the 100 day EMA which is at $3.70.  If we cross that, the next real resistance is my short term upside target of $3.76 with the mid term target at $3.84 within striking range.
We want to watch to see the equity cross $3.70 on higher volume and hold.  If the volume is over 50 million shares we want to see $3.76 taken out.  I will be back in the swing of things now, and have a lot of catching up to do.  Stay Tuned!
Volume

Support and Resistance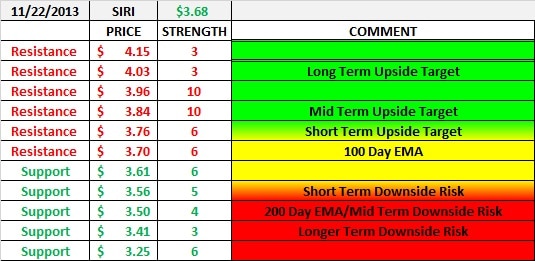 Exponential Moving Averages