SiriusXM is doing a lot of what I have been expecting.  It trades in a tight range while some moving averages begin to tighten up.  There is not a lot of swings for active traders, not a lot of dips for shorts, and not a lot of runs for longs.  We have an equity in consolidation mode that is also coiling up with tighter averages.  If you follow technicals closely, and read each day you will see that the key level of $3.15, which used to be at $3.10, is now creeping up to about $3.18.  That is a bias upside.  In essence the equity is in a three steps forward and two steps back mode.  This builds a foundation.  The strong support is at $3.10, while the strong resistance point is about $3.18.
Volume
I liked the action today because the company held the line on slightly above average volume.  We do not like to see the equity a penny lower, but all things considered, we are dealing with a range here and not a fundamental slip or pop.  I do not worry unless volume increases to the downside at $3.09.  I do not get excited unless $3.18 is broken on at least 85 million shares.  I am content with a methodical move that carries an upward bias.

Support and Resistance
A few key changes to note.  The key level is now $3.18 and there is strength in that level.  While the strength makes it harder to break, it will eventually become a strong support point.  Seeing that strength move above $3.15 to $3.18 is actually a good dynamic.  We still have a decent support level at $3.09 and a fall back support level that is quite strong at $3.01.  In my opinion the equity becomes a buy on anything under $3.09.  An active trader holding shares looking to sell may sell at $3.09 on a dip and wait for a bottom closer to $3.00.  More likely than not this equity will continue to range trade though.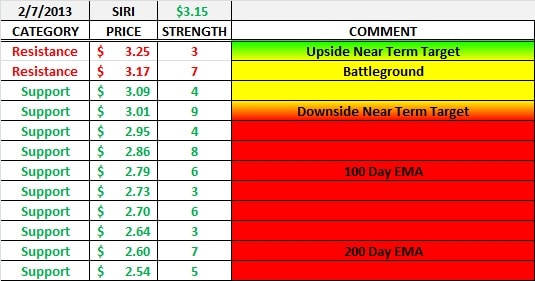 Exponential Moving Averages
The EMA's still have a caution flag in play.  In fact, a second one will come up with a close below $3.15 (the current trading level).  Then again, a close above $3.16 will remove the flag that exists today.  What I see happening is that the 5, 13, and 20 day averages will converge.  The 50 day is trailing behind.  The longer this equity trades between $3.15 and $3.20, the tighter all of these averages will get.  Tight EMA's usually mean a break.  I feel the break will be upward but still pay attention to a dip below $3.10.