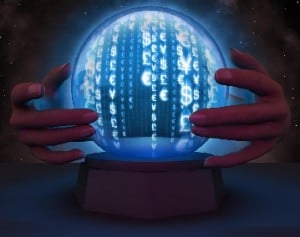 Well, we saw the $2.50's tested today.  It is something I have been keeping on my radar screen.  The problem is that when moving averages converge the equity is going to move one way or another.  Sometime figuring out that move can be a big challenge.  It can also provide a big reward or a big loss.  This is where the caution flags and warning signals come into play.  More often than not when we see a caution flag, and then see it confirmed the following day, it is the beginning of a trend in that direction.
So here we sit.  An equity that has closed in the $2.60 and made a move down on substantial volume.  That means that the move is real.  The bottom is determined when we see volume lighten up.  With options expiring Friday I have a suspicion that while we did see SIRI recover from $2.55, that it is not the last we have seen in the $2.50's.  There are key levels and key indicators to watch.
Volume 
This move down had strength today.  We can begin to identify a bottom when we see volume lighten up.  That is what confirmation is about.  Look for lighter volume to signal a slowing of the trend, real light volume to the bottom, and then higher volume the following day.  While the days going buy may be frustrating, getting confirmation is a safer route.

What we are looking for in volume is something in the 50's, 40's, then 30's to signal a bottom and something in the 80's or more to signal a strong move.  Volume in the 60's is indecisive.
Support and Resistance 
As disappointing as it is seeing the equity down, it actually makes using support and resistance levels easier.  We are now in the lower end of a wide trading range.  This equity is continuously testing support now rather than testing resistance.  We do not want to ignore that.  That is a sign of weakness, not strength.  There are some key levels to watch that I will discuss below the chart.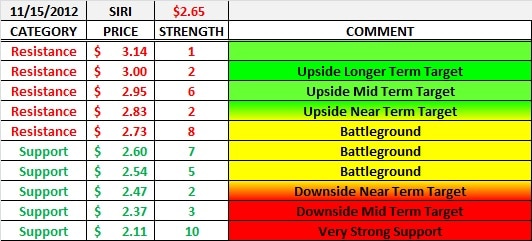 On the resistance side we have a key level at $2.73 with a few moving averages just above that level.  On the support side we have $2.60 and $2.54.  There is a fundamental problem on the downside risk right now.  SIRI is below key levels and there is only one safety nets are close together at $2.60 and $2.54.  If that net does not hold the line, we could see $2.25 happen.  That is correct!  $2.25 needs to at least be on the radar screen.  If things go south, we could see this equity dip that low.  There is a lot of ground between here and there, and a little protection, but not anything that I would call impenetrable.
Exponential Moving Averages - EMA's
The consolidation of EMA's at $2.75 seems to be off the table now.  It looks more like the consolidation may be in the $2.60's unless there is a bold and stark move.  This equity is now trading below ALL the tracked averages (5, 13, 20, and 50).  We now have a lot of red in the EMA chart.  Things can happen fast, which is why we want to monitor the caution flags in the top tier of the chart (prices in green or red) and the warning flags within the matrix.  We have added caution flags today as well as a warning flag.  The trend in more caution has been happening, and at this point a reversal of that trend on the EMA chart is days away.
Please take notice that the dominoes in this chart continue to fall despite the equity seeming to bounce off of levels.  Each day it seems that the equity will gain support and we see small runs.  It is tempting to rush back in or make a sell, but do not chase the equity.  Let it come to you based on what you are seeing happening with volume, support and resistance and EMA's.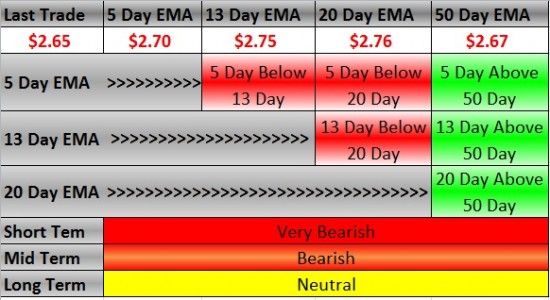 The key in this chart is that we are now very bearish short term, bearish mid term, and neutral long term.  It will take some substantial moves to change this trend to bullish. The first signals will come in what I call the caution line (the prices in red or green.  The trend is down, and we should not ignore that.  The action makes that hard to do though.  The equity seemed to recover only to fall again, and then had a surge as the trading day came to a close.  These however seem more like sprints that wind up with a winded racer at the end and then the down move happens again.  It will take a close of above $2.77 to reverse a warning flag.  A close in the $2.50 would put us on the cusp of another warning flag.
Summary
My gut tells me we visit the $2.50's again before the end of the week.  The only way I see this avoided is to get above resistance at $2.73 on big volume.  If this moves up to $2.67 on big volume I might consider a quick pop to above $2.73 is on the way.  I do not see it lasting though... at least not yet.  Watch the early action tomorrow.  Can the equity hold $2.60?  That is the telling signal of whether or not $2.50 is on the way.