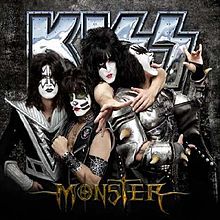 They're considered one of the most explosive rock and roll bands of all-time!  Their music crossed decades and their fan base includes people from nearly every demographic and age group!  This tireless and timeless unit is America's top gold record champion, releasing 37 albums over 36 years and selling over 100 million albums worldwide.  They have criss-crossed the globe on record-breaking tours and they've even performed at the Super Bowl!  There is only one band that has accomplished all of that...KISS!
SiriusXM's Hair Nation celebrates KISS' 20th studio album, Monster, with a select group of SiriusXM subscribers in the New York City studios for an exclusive SiriusXM Town Hall event.  The stage is set, and KISS will be descending upon New York City to sit down with a select few fans from the SiriusXM studios.  SiriusXM subscribers can catch the action live on Thursday beginning at 12:00 Noon on Hair Nation.
SiriusXM's Town Hall series features some of the worlds most iconic music personalities in intimate  setting with a small group of fans discussing all things music, and even dishing a bit about current events.  Of course, their is also music!  Catch Kiss live on Hair Nation Thursday at noon.