You have likely heard the old adage that gaps always fill.   Well, like or not there is a gap at $2.90.  Whether or not that gap will fill is the subject of lively discussion.  Interestingly, the higher the stock stays, the more difficult it may become to fill than gap.  As it stands now the gap is at the 50 day Exponential Moving Average.  This means a test is still viable, but getting more difficult.
Volume
Volume today was very light again.  It is looking like we may have seen a near term crest slightly above $3.15.  What I did not like today was that the equity is giving up ground on light volume.  The positive is that this mini bearish move lack strength, but if support levels continue to be broken, there will be a point when a more major correction comes into play.
The key here is holding above the 13 day moving average now.  That average sits at $3.08.  If $3.08 breaks on any volume a quick test of $3.00 could happen.  Overall the equity remains bullish in the long term, but there are always short term considerations that can take any direction.
Support and Resistance
Support and resistance is consolidating a bit, but the essential levels remain the same.  We have resistance at $3.16 and the next support below at $2.99.  There are EMA levels at $3.04 and $3.08 that can help support, but times are getting interesting.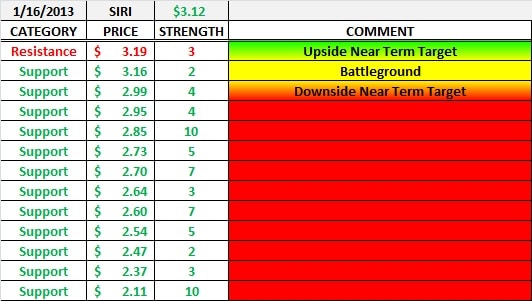 The key level below is now $3.08 and then $3.04.  Investors need to watch the action if the equity approaches these levels and take special note if that happens with volume.
Exponential Moving Averages - EMA's
The EMA's now have a caution flag.  With a close at $3.12 the equity has broken through the 5 day EMA at $3.13.  While a caution is never good, the existence of one caution flag does not mean that the world will tumble.  It could be a signal that a near term bearish trend is beginning.  Today it looked like SIRI would hold the line above $3.13 and remain with all bullish signals.  That did not happen.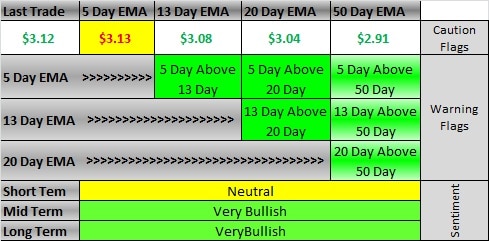 What we want to watch for is the equity to hold the line and keep itself above $3.08.  If the equity can do this it will keep any new caution flags from developing.  If SiriusXM can close above $3.13 it will turn the EMA chart all green.
Stay tuned!