The sounds of silence.  That is exactly what we have from SiriusXM just a day before Liberty media announces its quarterly report.  Two weeks ago I would have bet the farm that we would have heard something by now.  A week ago I would have doubled down that something would have come out this week.  It just goes to show you that as much as we know this equity, there are things that are simply unpredictable.
As expected without news, the equity is range bound and tightly wound.  We closed down today on light volume.  That is a signal that downward pressure is not severe.  Being tightly wound, we will see a decent move on any news.  If the news is perceived as positive, we could see something like an attempt to get into the $3.70's.  If the news is perceived as bad, we could see a quick test and recovery from the $3.40's.
Watch this equity closely tomorrow.  Liberty will be reporting and the street will be looking for hints.  Make sure you pay attention to Liberty media if you do not already do so.
Volume

Support and Resistance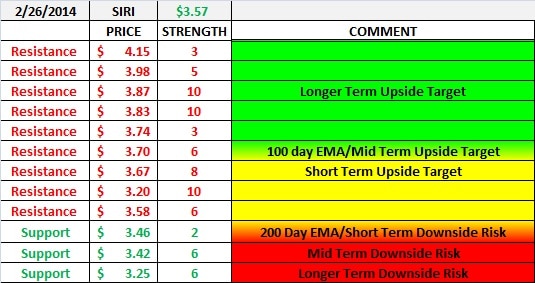 Exponential Moving Averages