Investors are certainly frustrated.  An equity that many thought should be at $4.00 per share or more now seems capable of testing the $2's!  How can this happen?  This happens when something that was potentially very good gets pulled off of the table.  I know, some retail investors love to hate Liberty media, but it is the institutions and the street that matter when it comes to an equity.  There was a lot that made sense about the Liberty deal.  For the time being it is gone.  We simply need to get used to the idea that something different will pop up down the road.  With how the respective equities have been trading, we could actually see a renewed interest from Liberty yet again inside a year.
SiriusXM tested as low as $3.09 today.  It bounced back up to $3.17, but the damage is done.  I had several comments and communications today about whether or not SiriusXM is buying back shares at these levels.  Not to add insult to injury, but they will be buying back $340 million worth in a couple of weeks.  The problem...They are Liberty shares and will be bought at $3.65 instead of at market prices.  That is an impressive 15% premium over current prices.  And to think, some SIRI investors wanted a 15% premium over the $3.68 that represented the initial Liberty offer.  Yes, technically SiriusXM can be buying open market shares, but there is an issue of cash flow.
At the end of January the company had $135 million in cash and cash equivalents.  Assuming that they can generate $250 million in free cash in Q1, the cash will be at $385 million.  $340 million of that will go out the door to Liberty in April.  That leaves the company with $45 million in cash and available credit of $800 million.  The company is not exactly in a position to be on the open market buying shares.  Buying the Liberty shares will take 93,150,000 shares off of the market.  An open market buy at today's prices would have removed 107,255,000.  That is a delta of 14 million shares!  It is an "overpayment" of almost $44 million!
We are not in pretty times for SiriusXM.  The technicals are bad, and the fundamentals are hitting a pothole.  Auto sales in Q1 after two months were behind the same period last year, and March does not look to be much help.  March is expected to be modestly better than last year, but overall it appears that Q1 auto sales will be down year over year.  Worse yet, incentive spending is up about 8%.  This means that it is costing OEM's more money to get the same amount of consumers.  Simply stated, demand may be off a bit.  SAAR for march is expected to be 15.7 million.
Cash is tight, auto sales are softer than expected, Liberty pulled its offer, and the metrics in Q1 will be challenging.  It is little surprise that the equity is getting impacted.  The silver lining is that SiriusXM is much more sound than the near term actions show.  For some, there is a buying opportunity.  The trick is waiting for volume to dry up.  This equity traded a massive 182 million shares today.  That is not a signal that weakness is over.  The end of the day recovery was nice, but we are not out of the woods.
Near term risk is a test between $3.00 and $3.10.  Near term potential is simply getting back to $3.30 as a first step.
Volume 
Support and Resistance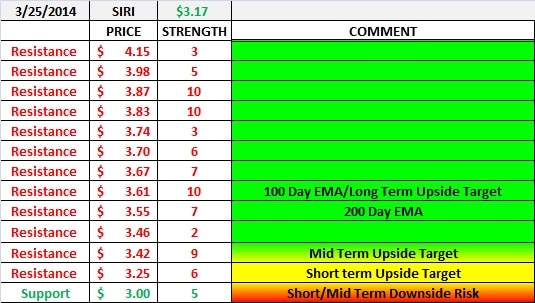 Exponential Moving Averages