SiriusXM tested as low as $3.58 today but managed to pull off a close at about $3.66.  The good news is that we recovered from what could have been a signal that $3.53 was on the way.  The bad news is that these lower levels may still come to fruition.  It seems weird that a company that is supposedly desired by Liberty Media would be down, but now that people are beginning to finally comprehend that this is an all stock deal, the "take-over" visions are much more muted (as they should be).
SiriusXM now has 4 caution flags and a warning flag.  The EMA chart is not looking pretty.  The only thing really positive is that the equity rallied at the end of the day.  That being said, unless a compelling catalyst arises, the overall signal is shifting to bearishness.  Now...There will be those that speak to "manipulation", that Malone is trying to steal the company, and that this is all a set up.  The reality is that SiriusXM was trading at "fair value" prior to this news, and at "premium value" after the news.  Yes, a $4.50 price target in 2014 is very real, but the company needs to produce at certain levels to bring about that valuation over time.  This may not be what you want to hear, but it is the reality.  Those blinded by preconceived notions and the herd mentality are the ones left holding the proverbial bag.
Here is the current situation.  The cap on SIRI right now is dictated by the price of Liberty Media, not company performance.  The price of $3.68 is now a big resistance point.  Essentially, the uncertainty surrounding this transaction is hampering the ability of both SiriusXM as well as Liberty.  In my opinion, the risk side is what deserves our current attention.  I think that the 200 day EMA at $3.53 is not out of the realm of possibility.  I show it as a long term downside risk, and in this instance, longer term is about 2 weeks.
Tomorrow we want to see this equity stabilize on volume that is similar to today.  If we dip again on high volume, this equity could dip into the $3.50's with relative ease.  In my opinion share buybacks of any type are now off of the table until there is resolution to the Liberty situation.   The 4 caution flags and one warning flag are my concerns.  If you look at the chart you will see that we have a very tight range.  We could develop several caution flags if we close below $3.63.  Savvy investors are getting their finger on the trigger.  In my opinion, if you are not looking to pick up nickels, sit tight.
Volume

Support and Resistance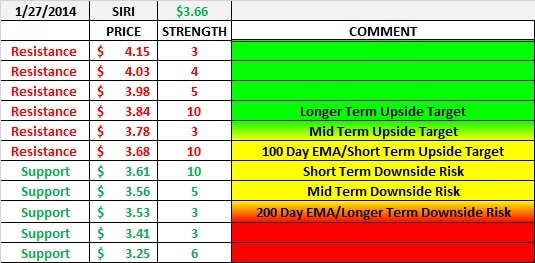 Exponential Moving Averages