The bad news is that SiriusXM went down on high volume.  The good news is that it held support.  As I have been saying, $4 will not be easy.  It is my belief that if the company announces subscriber numbers we will see a spike above $4.  The equity still has great support levels below, and has now demonstrated that volume can indeed come back to this stock.
The EMA's did put up 1 caution flag.  That is not overly concerning, yet is a signal that we do need to be aware of the downside.  In my opinion, the massive support at $3.86 offers great protection here.  In addition, having the 100 day moving average working its way up is great as well.
Watch the news wire, and watch the volume.  It is really that simple with this equity right now.  I believe that the upside potential outweighs the downside risk right now.  If that sentiment holds true for the street, it is enough fuel to get this equity moving above $4.
Volume
Support and Resistance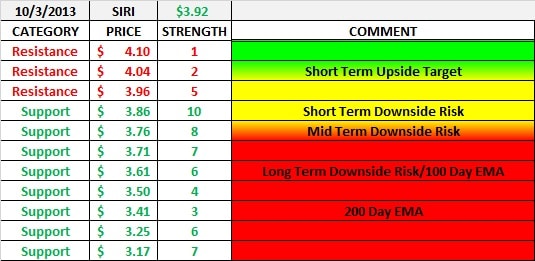 Exponential Moving Averages