Looking at the action today one can not help but think that Liberty Media may well have jumped into the market in the afternoon and bought up some shares.  They are real close to 49.9%, but had some room to buy.  In fact, they have enough room to buy somewhere around 25 to 30 million shares without going over into 50% territory.
Today certainly was an interesting day.  As projected, the equity did test the 50 day EMA at $2.35, and even dipped below that level with a low of $2.33.  While it did not test $2.27, I hope that readers were looking at that level seriously, as it still may be a factor.  It all depends on where that volume came from.
When Liberty dropped out of the market for a couple of days, the equity reverted to a downward trend.  If Liberty stepped back into the market, then we have even more evidence that A)Liberty is propping up the price by being in the market, and B) That the equity losses some steam when Liberty steps aside.
Volume
We had an impressive volume day.  Most of the volume happened in the afternoon as the price surged.  These are the types of moves that I love to see.  If nothing else, we saw real strength at the 50 day moving average.  It should give longterm holders some comfort knowing that $2.27 is a pretty solid level of support.  The trading today also served to change support and resistance levels slightly.

The key to tomorrow is seeing if SiriusXM can continue this type of volume.  It it dries up it implies a near term top.  With a resistance level now at $2.46, things can get interesting.  If SIRI can pass $2.46 on volume, it will be a bullish sign.  Bear in mind, that Liberty could have been in the market this afternoon.
Support and Resistance
We had some adjustment here today.  The good news is that the 50 day moving average proved to be a support level of sorts.  The bad news is that the equity did test below that.  Then again, the good news is that SIRI id not test $2.27.  However, on the other hand we now have moderate resistance right above.  Confused yet?  GOOD.  Now to explain.  The presence of Liberty throws wild cards into the equation.  Even the fact that we do not know if Liberty was in the market today is a wild card!  In all seriousness, we have moderate resistance directly above.  My gut feeling is that SiriusXM will not test this with any strength.  See the chart and read on.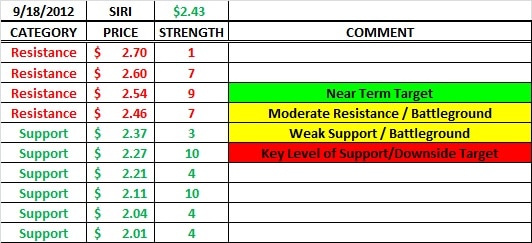 Right now I do not have a warm fuzzy feeling about $2.37.  Given the volume, I would say that Liberty is about done with purchases and will pause.  My gut feeling is that we will see some sideways action tomorrow as the market tries to figure out what transpired today.  I think that the 50 day exponential moving average at $2.36 now, will be a critical point.  We may actually establish a range here.  Bear in mind, I am still looking over my shoulder at $2.27.
Exponential Moving Averages - EMA's
I LOVE EMA's.  I love them because they fill in the blanks in the support and resistance chart, and they tell a story that can help us better determine the direction of an equity.  Today we still have two danger flags up.  Had it not been for the run at the end of the day, we would likely have had 3.
What will tomorrow mean for the EMA chart?  A close of $2.43 will bring down the 13 day EMA and set up another caution for us to address.  With resistance at $2.46 being what is is, there is a narrow range where SIRI can keep the current EMA chart in tact without losing ground.  We need to bear that in mind.  As bullish as the move at the end of today was, it still does not reverse the near term bearish situation.
Summary
Keep $2.27 in your field of vision.  Watch to see if Liberty was in the market.  The good news is that if Liberty was not in the market, we will see great strength in the move.  Watch for volume.  Does it suddenly normalize?  Does it get lighter?  If it gets stronger, and the equity moves, I would say there is some conviction behind the move.  We could be seeing the beginning of a new trading range between the mid $2.30's and the mid $2.40's.  Always remember that news, especially compelling news, can turn this on a dime.