Well, the equity broke $3.70, and as I said yesterday, breaking that would likely bring on a test of $3.61.  No, we did not get that low, but consider that this downward move happened on higher volume than the previous session, and higher than average volume.  We should not ignore the trend here, and we must now give consideration two steps below the current level.  That means $3.61, and possibly $3.56.  With the 200 day EMA at $3.50 being what should be an absolute bottom if it even gets tested.
The wheels have not fallen off of SiriusXM, but they are not shining and new at the moment either.  As I have said, Q4 will have challenges.  In fact, knowing this, it is a great time for the company to take all of their hits and air out the bad news.
I have said that if you are on the sideline, there is not a compelling need to jump in.  Simply wait for the technicals to turn.  The EMA still looks bad.  We will see signals that will tell us when this equity will turn positive again.
Today we went down a decent size chunk on higher volume.  We want to see the volume dry up in conjunction with the price drops.  We can confirm a bottom when the equity comes back up a bit on a bit of volume AFTER we see the volume dry up.
On the EMA's, the 20 day is about to cross below the 50 day.  I have inserted a caution there.  It will likely turn to a warning flag tomorrow.  At that point the EMA's will be all bearish.  I had thought that the EMA's would converge in the low $3.80's, but it is now apparent that the $3.70's may be the consolidation point.
The 100 day EMA has been broken.  We have to look at the odds of hitting the 200 day EMA as much greater now.  Stay Tuned!  The charts for today are at the bottom.
This next section is with apologies to current members, but we have a couple of new members today, and I want to point them to the schedule in the next couple of weeks.  For new members.  First and foremost, thank you for giving us a try.  While I feel we have a great service here, and long time members agree, there will be an interruption in service over the next two weeks.  I am Flying to Texas tomorrow and getting married on Saturday.  Next week, coverage will be questionable, as I will be just married and visiting with a lot of family in Texas.  The following week I will be on a Cruise for my honeymoon.  I will be returning to normal coverage on November 25th.  The chart below outlines the schedule.  New members are welcome to review past articles at their leisure.  Because we are interrupting coverage, I am offering the opportunity to adjust this service for you.  I know that when you pay for a product that you expect to get it.  If you would like an adjustment, simply send us an email, and we will work with you to your satisfaction.  I also want to take this opportunity to thank the longer term members for their support and well wishes.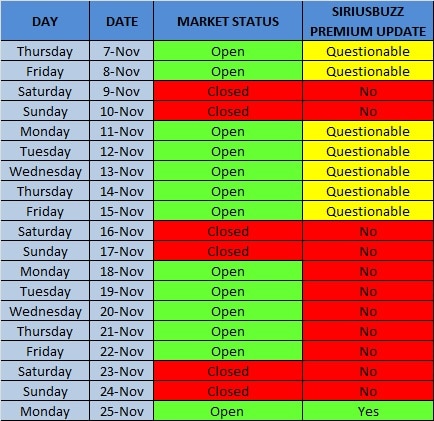 Now to the charts.
Volume

Support and Resistance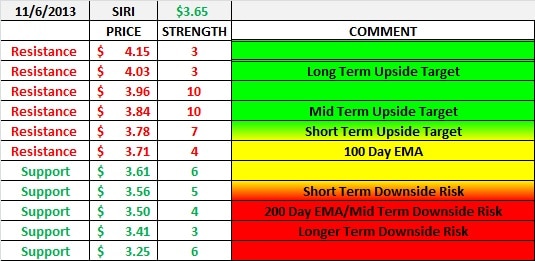 Exponential Moving Averages