The good news is that SiriusXM exhibited an ability to test slightly higher.  The bad news is that the equity closed down.  At this point it should be getting clear to investors that SiriusXM and Liberty are now essentially trading in tandem.  In one sence this is good because it begins to remove the arbitrage pay from the equation.  This has happened because those that wanted to play that arbitrage have been able to take their position.  Liberty Media closed the day at $133.00.
The action today happened on very thin volume.  This is yet another indication that the arbitrage players (for the moment) are done.  Let the deal negotiations begin.  I have long stated that the deal has very little wiggle room.  The initial offer was 0.076 shares of series C for each share of SiriusXM.  My opinion is the offer may approach 0.80, but not much more.
The proposed deal can be quite nice for all investors at that level.  There will certainly be a retail contingent that does not understand the deal and will rant and rave, but in the end, I think a deal is worked out.  That does not mean that we will not be free of lawsuits.  Those sharks will circle no matter what.
What we want to see happen here is these equities continue to be stable and both moving up.  The low volume is an indication of capitulation at current levels.  In the support and resistance chart, we have hurdle at $3.63.   Support is down at $3.46.  The equity is hovering on a level at $3.56.  If we close below the current level, the resistance above gets stronger.  If we clsoe above $3.56, support gets stronger.  Do not look for bold moves this week unless we get news on the offer.
Volume

Support and Resistance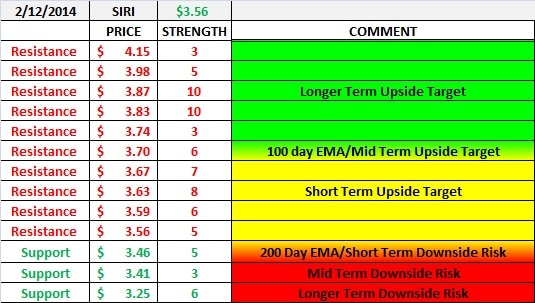 Exponential Moving Averages