Well, it is more of the same with this equity.  The consolidation continues, and again, the price range looks great to trade, but the risk is simply too high.  Especially considering that a dividend is around the corner.  Better to wait and see a strong trend in one direction or another develop.  That day may come soon, so the key is simply being ready.  In another development, that mystical resistance level in the $2.80's that I have been speaking about finally formed.  We now have a new resistance level at $2.84!
Volume 
SiriusXM traded on slightly above average volume but not enough to mean anything compelling.  I did like the test above $2.80, but hate seeing it dip below again.  As stated, it will take compelling volume to break past $2.80.

The key we are looking for is testing a level of support or resistance with enough volume to hold that level and close above or below it.  Until we see that happen, we will be in see-saw mode and likely see a lot of head fakes.  If you are long and strong, just sit back and be patient.  If you are an active trader, you want compelling signs, not head fakes.
Support and Resistance
The biggest news here is that the resistance level in the $2.80's has finally taken shape!  While a new resistance level may not seem like something to celebrate, it actually is.  It provides us with a point where we can base trading decisions from with a greater degree of confidence.  It makes us smarter traders!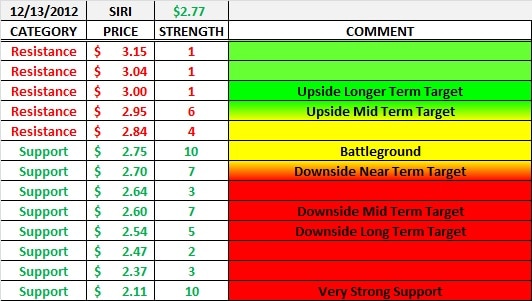 What we now want to see is SiriusXM test and pass $2.84.  SiriusBuzz Premium members have known about this level for a while, but now it is common knowledge on the street.  Your advantage as a member is that you know the type of volume it will take to pass this level for real.  Stay tuned.  The fact that the equity now carries this resistance level is a signal in and of itself that perhaps some of the short term volatility is evaporating.
Exponential Moving Averages - EMA's 
There is not much change here.  We are still free of any caution flags, but I still want you to focus on the three yellow sections in the chart.  These are right on top of each other, and a trading day weaker than $2.76 will set off at least a caution and warning flag.  Things are that tight!  The 5, 13, and 20 are all at $2.76, and the 50 sits only 4 cents below at $2.72.  Being this tight is not comfortable for an equity like SiriusXM.  My gut tells me that the run will be bullish, but we need to consider the macro-economic situation and be aware of the downside.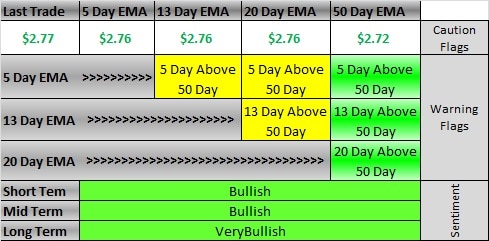 Key levels are $2.75 and $2.85.  In fact, the trading range might be seeing a small upgrade!  We have been at a range between $2.70 and $2.80.  We could be seeing a small bullishness here that is worth noting.  There is a safety net at about $2.70 or so, so that is also a key level.  We want to see the equity bounce off of this on any volume, or if you are looking for a downward move pass it on high volume.
Mock Account
The strategy is essentially the same, but I am throwing in a new wrinkle.  Sell Level 2 over core at $2.69 if volume is high.  Sell Level 2 over core if $2.85 is hit on light volume.  I realize I am risking the dividend, but I feel that the equity is testing new technical waters and that may afford me a day of range trading.  If volume at $2.85 is moderate or high I leave it alone.