The good news is that SiriusXM has shown enough strength to test 52 week highs.  The bad news is that it is happening on lower volume, thus an upward move beyond $3.85 needs some confirmation.  The S&P has been up 5 days in a row, and therefore SiriusXM should be able to hold the line and appreciate.  This move today is more about the overall market than SiriusXM.  A good catalyst right now that is company related would likely be enough to get some momentum building.
From a support and resistance standpoint things look good.  We closed right above the $3.84 support, so that will be a critical teller on confirmation of today's upward move.  If we hold $3.84 we confirm the move.  If we dip below, that is weakness.   We have a small support level at $3.78 and a virtual wall at $3.73.  That is the downside situation.  Upside we have weak resistance all of the way until $4.00.  That does not mean a move up will be easy.  I suspect, because we are entering uncharted waters, that the move up will need a company boost.  The other piece of good news on support and resistance is the 50 day EMA actually moving up above $3.60.  This is a safety net of sorts.
The EMA's look very good, though the spring has uncoiled a bit.  The spring simply did not send the equity skyward.  It was more of a flutter.  That being said, sitting at $3.85 today vs. about $3.70 not long ago is a good place to be.  My suspicion is that any company driven news will let this equity make a run toward $3.95.  I am moving my short term price target from $3.85 (which was hit today) to $3.95, which I suspect could get taken out in the next week and a half or so.  My mid term target still sits at $4.00.
A positive aspect to the coiled spring softening is that we now have a little wiggle room before any caution flags develop.  That is the trade-off for a bold run I guess.  What we want to see is the equity hold $3.85 on a minimum of 30 million shares, and preferably on 40 million shares or more.  The more volume we have here (above $3.84) the better.  The goal is to build up the support at $3.84 and migrate the strength we see at $3.78 up another step.
I see the downside risk as being about $3.70, and the upside potential as about $3.95 in the near term.  That means that this is a holding pattern at the moment.  There is nothing compelling that screams buy, and nothing compelling that screams sell.  Players may tone back a bit.  A bold move of 10 cents could happen, but the buy signal is saying patience may be needed still.
Volume

Support and Resistance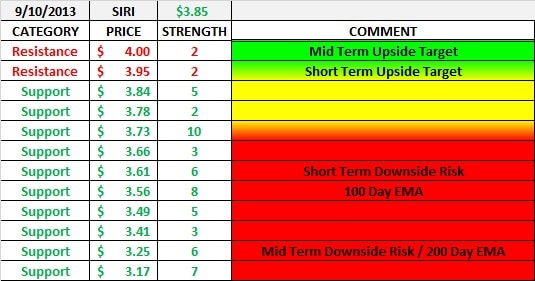 Exponential Moving Averages