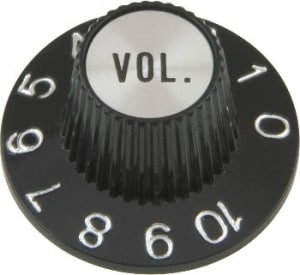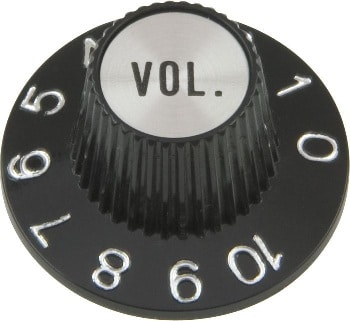 First things first.  I was anticipating that today would be a high volume day with a caution at $2.10 and a possible test of $2.20.  We got the test of $2.10, but volume never entered the equation, and without that the test of $2.20 fell off of the table.  That opinion was based on what I saw was a pent up demand for position prior to the call.  While I am hesitant to lay out the same opinion today, I still have a strong sense that a high volume day needs to happen before we hear the SiriusXM (NASDAQ:SIRI) call on Tuesday.  At the moment it looks like a test of $2.20 is off the table.  More on that later.
VOLUME
Volume is the key!  It is what will determine a move and the main factor on where SiriusXM goes from here.  Once again today we saw this equity trade on lower than average volume.  It is actually getting kind of eerie!  SiriusXM closed the day with 31,260,981 shares changing hands.

As I have said before, it takes volume to show a true conviction in a trend.  SiriusXM has had anemic volume.  While the equity did trade down, the strength of that move was relatively weak.  It is more like it is drifting than making a move.  What I want to see is volume in the neighborhood of 50 million or 60 million shares.  This is a key element to sentiment.  We want volume!  In my opinion this equity is due for a high volume day.  Whether it will be tomorrow, Monday, or with the call on Tuesday is anyone's guess.
SUPPORT & RESISTANCE
The changes today are substantial.  The cautions I have been laying out are happening and the equity now sits in a danger zone of breaking down below $2.11.  The key here is $2.11, and then $2.04 below.  With all else being equal Sirius XM should be able to hold, but the trend is down, so investors need to consider a break of support happening.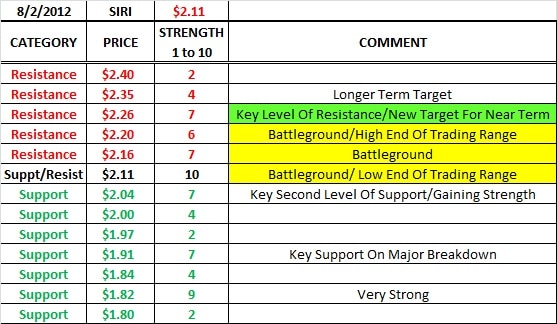 Now that we have the risks out in front of us let's explore the potential upside.  SiriusXM has a battle on its hands to hold $2.11, and then another battle at $2.16.  In my opinion it will take a lot of energy to get through these levels.  This makes the high end of the trading range at $2.20 on passable on high volume.  From a support and resistance standpoint, my convictions that a possible $2.26 is in the near term cards is weakening a bit.  For the time being I am cautiously holding this as my topside target in the days surrounding the conference call.
EXPONENTIAL MOVING AVERAGES (EMA'S)
With the exponential moving averages we are seeing the first signs of weakness in quite some time,  Because Sirius XM closed below the 5 day moving average we have a red indicator.  This shifts the short term outlook from very bullish to bullish.  While not a positive, it is not a massive negative either.  Essentially SiriusXM exhibited weakness today and it is only fitting that it be reflected in the technical charts.  This is why I speak of having a bit of wiggle room in the numbers to confirm behavior.  If the bearish signal we saw today gets confirmed tomorrow, then there is indeed weakness.  On the other hand Sirius XM could erase the bearish signal with a close above $2.14.  In theory this should be something that the equity can accomplish with some ease because the next resistance is not until $2.16.

SUMMARY
We saw a breakdown of sorts happen today.  On the positive side it lacks volume and thus conviction.  On the negative side the equity will require a lot of energy to keep above $2.11 and then pas $2.16.  Passing $2.20, which seemed very real only a few days ago is now a challenge.  I still feel a day of large volume is due, but perhaps this quarter we will not see it happen until after the call.  Earnings is around the corner, so be ready for anything.