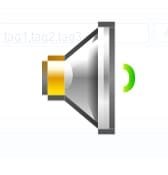 Well, a new week is upon us, and thus far SiriusXM is not behaving in an exciting manner.  The equity traded down today on lower than average volume.  It tested support, and bounced back up off of it.  All in all the equity is behaving in a very predictable manner.  SiriusXM was giving up strength as the day progressed, but there is very little conviction behind the move.  Down on lower volume translates to no beef in the stew.
This is a bit precarious, because as I stated previously, if an equity is able to test a level, it is an indication that bit can break it.  Testing the $2.50 support level on one or two trading days does not send up caution flags right away.  It is simply an event, or events, that we want to file away in the back of our heads.  Moving forward, we should get some sort of news very soon.  It is clear right now that SiriusXM's subscriber guidance of 1.6 million is a joke, so the only question is when the company addresses this issue. Perhaps we will get something in the next two weeks.
As an aside, I want to extend a welcome to the new members.  Thank you for your support, and I hope that this service meets your needs.

Volume
As stated, volume today was lighter than normal and the equity remained in the range that I felt it would.  While I did not like the drift downward throughout the day, the fact that it happened on low volume gives me some solace.  SiriusXM traded about 43 million shares.  This is indicative of some consolidation.  Given the status of the other technicals, I have very little worry about the trading today or the fact that the equity closed lower.  My only caution would be that it did close at the support level rather than bouncing up.  That means we wait to see what transpires tomorrow.

Support and Resistance
This chart has changed very little.  I did make the change to support at $2.51 to reflect both support and resistance.  Essentially this is now a battleground.  We want to watch that support level closely.  While the technicals say it is strong, it is quite interesting that the equity closed right there.  Perhaps the strength there is not what we thought.  Even though Liberty has been out of the market now, their actions did make things a bit quirky over the past several weeks.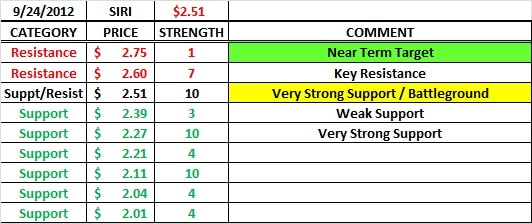 Exponential Moving Averages - EMA's
We are seeing some positives here.  There are gaps between the averages and that is healthy.  They are still quite narrow though, and that points to something happening from a technical standpoint soon.  Typically an equity does not like to say coiled for any length of time.

Summary
We are in a holding pattern waiting for an indication one way or another.  Equities are sensitive to compelling news during times like this, so pay attention to the news flow.  Even though the Nissan news today was good, that is not the type of news that will move this equity anymore.  The caution here is how SIRI behaves in the morning at $2.50.  While I will not call for it to break, I will caution that the next leg down is the 50 day moving average at about $2.39 or $2.40.  I still see an upward move happening, it just may take some time.