Well, it has happened.  SiriusXM has tested and now retested the 50 day moving average.  There does seem to be a hesitancy for the equity to dip below, so the natural question is whether or not it will.  On the downside of this equation is the fact that there is still another trading day and SIRI is still in a short term downtrend.  What we want to watch is the volume of a move.  Interestingly SIRI seemed to test lows on volume and then back off a bit.  The overall volume does seem to indicate that the strength of the move is not tremendous.  However, volume is high enough that it leaves more downside in play.
Of course, SIRI did finish the day right at that frustrating level that makes the next move more difficult to predict.  This is where the little nuances of technical trading come into play.  As predicted here, we have seen another danger flag come into play on the EMA chart.  That makes the short term indicator VERY BEARISH.  We are also in danger of seeing a third danger signal develop which would make the mid term prospects bearish.  We can not and should not ignore the indicators.  This is where leaving your emotions at the door is prudent.
Volume
SiriusXM closed the day at volume lighter than yesterday, but in the neighborhood of the 200 day average volume.  While the downtrend is weakening, it has not evaporated.  What we would love to see is the next move down on 40 million shares or less.  This would be a signal that a bottom is in.  If SiriusXM keeps at current levels on volume above 50 million shares it would indicate that perhaps a new trading range and new base are developing.  We can determine a likely bottom when the equity trades at about 40 million shares or less.

What we want to watch for is for the volume to lighten up.  Going down on similar volume or higher volume means that the bottom has not been reached.  Active traders want to pay close attention to this.
Support and Resistance
The support and resistance chart is actually easier to read now because we have levels of strength above and below that help to determine a range.  This dynamic was nearly absent for a couple of weeks making it harder to play directions.  If you are an active trader you like to have a bit of a target to work with.  We now have strong resistance at about $2.80 and strong support at about $2.60.  That is a wide range.  The more narrow range is $2.66 to $2.75.  If SiriusXM remains in the $2.60's, the resistance at $2.75 will gain strength.  At this point a test of $3.00 should be off of the radar screen and investors should be looking more at the possibilities of a dip into the $2.50's.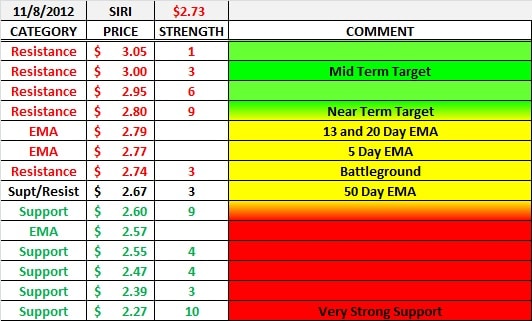 The key tomorrow is the early action.  In my opinion the pressure to the downside still exists.  We want to watch what type of volume we get early in the day.  I fear that tomorrow could be nasty with the equity giving up more than just a couple of cents.  If $2.67 breaks look for the gap at $2.58 to be tested at some point in the next trading days before this equity settles down and regroups.
Exponential Moving Averages - EMA's
Watching and playing these technicals can really pay off.  If you heeded the cautions and danger flags, then you are now looking for a re-entry point.  This is now where patience kicks in.  If the technicals did you right on the exit, why not rely on them for the entry?  What we are seeing in the EMA's is day after day of more cautions and warnings.  Until that stops, I am one to play the trend.  Notice that I have added the color yellow to the chart.  That block is the next EMA technical that I anticipate falling.  I want to stop here for a moment and give a small lesson on reading the EMA charts even better.
We have three duration's in the EMA chart - Short Term, Mid Term, and Long Term
We have 4 signal types in the EMA chart - BEARISH, VERY BEARISH, BULLISH, and VERY BULLISH
There are six blocks in the EMA chart.  The 5/13 day box and the 5/20 box represent short term.  The 13/20 and 5/50 represent mid term.  The 13/50 and 20/50 represent long term.  Yesterday we had a danger signal in the 5/13 box.  That was a bearish signal in the short term.  Today we have a danger signal in both the 5/13 and 5/20 boxes.  That represents a very bearish signal in the short term.  Taking it a step further, if a Very bearish signal exists in the lower moving average you must discount the subsequent category by one step.  Thus, because we are now very bearish in the short term the mid term gets downgraded to bullish from very bullish even though both boxes are in the green.
What we have now in the EMA chart is the 5, 13, and 20 day EMA's all staked on top of each other with the equity trading at the 50 day EMA.  SIRI trading down in the $2.60 will start keep the danger flags happening.  Be aware of this.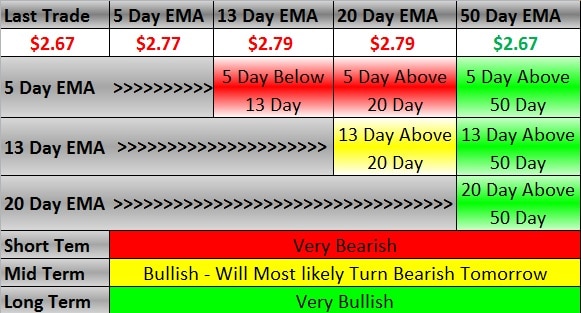 As you can see in the chart above I have added a section to indicate short, mid, and long term sentiment.  Short term is very bearish right now and mid term will likely shift to bearish tomorrow.  That shift will happen if the 13 day EMA drops below the 20.  The gaps between averages are very tight right now.  Can you see the next steps?  The trend is bearish and at this point there is no technical reason on the EMA chart to indicate a reversal.  It would take a close of about $2.84 or better to reverse this chart at the moment.  With heavy resistance at $2.80 that seems unlikely in the short term.  This is a reset happening.  This is exactly why I say that we should now get $3.00 out of our heads and be looking at $2.50.   These technicals are the easiest to read in recent weeks!
Summary
Watch the early action tomorrow.  My gut tells me that the trip down to $2.60 will happen fast.  I see a much smaller potential of an upward move and even if it does happen I do not see it getting past $2.75 or so.  Stay tuned!