Don't say you were not warned.  I wrote distinctly about the chance that we can see SiriusXM test $3.60.  No, it did not dip that low, but it did give up 6 cents on volume higher than the previous session.  We remain on the wrong side of a strong support/resistance level.  That key level now sits at $3.75.
SiriusXM added a caution flag on the EMA's.  If you wanted confirmation of a dip, you now have it.  In my opinion the short term downside risk is $3.60.  This equity did not hold the line on very positive news about the acquisition of a telematics unit.
For the time being it would appear that the consolidation and coiling of the spring may happen in the $3.60's.  What we want to see is the constriction of EMA levels.  We are now down to 15 cents between the 5 day and 50 day.  We may see total convergence at about $3.70 or $3.71.  At least that's the call right now.
Volume
Support and Resistance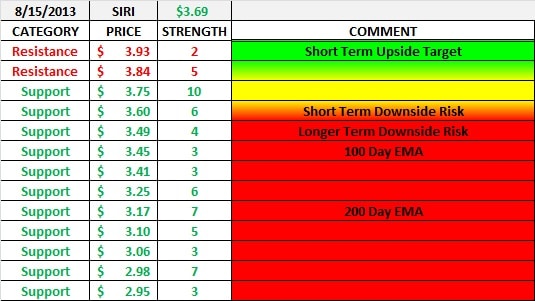 Exponential Moving Averages