The action today happened on higher than average volume.  SiriusXM broke below the sentimental level of $3.50 and closed at $3.47.  Simply stated, the equity is testing dangerous waters.  With no information on the Liberty situation forthcoming, investors are beginning to have their proverbial patience tried.  Unfortunately, all that we can do at this point is sit and wait.
The technicals are ugly.  The EMA's are coiled tight, and the trend is bearish.  If we do not see any news on the Liberty front, my fear is that this equity could break below $3.40.  Worse still, we are getting to a point where we may see the 100 Day EMA cross below the 200 Day EMA.  This is a bearish signal and something we will want to monitor closely.  I know that longs do not like to hear this, but it needed top be pointed out.  You do not stay here to listen to someone wave pom-poms.  You stay here to get actionable and pertinent information.
We need to see the volume dry up.  It is that simple.  If we trade on volume over 50 million in the $3.40's, it is not a good signal.  We are a couple of months away from the next quarterly report, so there is no real news other than the Liberty situation to look forward to.  Meanwhile, Liberty has been taking its own lumps as well.
Volume

Support and Resistance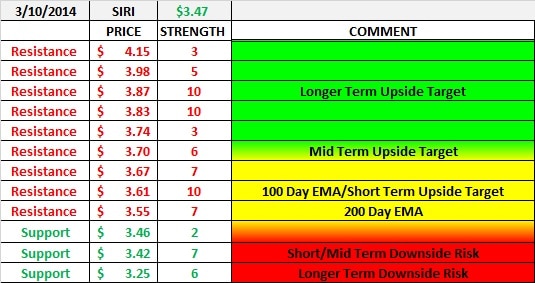 Exponential Moving Averages