With earnings about a week away and options expiration in the rear-view mirror will this be a week of recovery or one of setting up for lower lows?  If you can answer that question you will likely benefit from a 15 cent swing in one direction or another.  My belief is that SiriusXM is going to announce some good numbers and that fact should begin to give the equity a little bit of traction.  Thus, I am guessing we may see a bit of a run during the week.
Volume 
Volume was much lower than normal.  This is indicative of a lack of desire to trade lower than it was trading.  Perhaps we will be saved from testing the 200 day exponential moving average.  What we want to see is volume pick up over the course of the week as the price of the equity moves up.
Support and Resistance
Support and resistance remains much the same as the last report.  The big step up is at $3.05 with another big step at $3.10.  Support below is at $2.99, which also happens to be the 100 day EMA.  The key to watch is the action at $3.05.  If Sirius XM can break through that on good volume it can make a run at that $3.15 level I spoke of in the opening paragraph.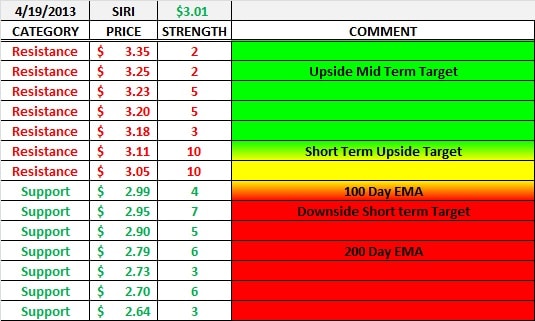 Exponential Moving Averages 
The EMA's still are exhibiting all bearish signals,  Bear in mind though that caution flags and warning flags can go away quickly if the equity makes the anticipated run at $3.05 and passes it.  I believe this will happen and happen in the first half of the week.  Stay Tuned!