We are certainly in an interesting place with SiriusXM.  The technicals are telling a bullish story.  My only hesitation is that we are fast approaching the quarterly call, and volume is drying up as the equity holds in a critical area of support and resistance without really breaking through.  On the positive side of things, a good call can deliver us to the $3.60's.  On the negative side, a mediocre call can bring us back into the $3.30's.  It is a tough call to make.
In my opinion there will not be anything earth shattering on the call in either a positive or negative light.  I actually believe that the numbers will all be good, but am not sure that the numbers will be compelling enough to drive this stock.
We closed at $3.48 on low volume.  We have held above the 100 day EMA, and have now closed above the 200 day EMA.  Holding above $3.47 will be important.  We also want to see the 100 day EMA bring itself up and cross over the 200 day EMA.
Volume

Support and Resistance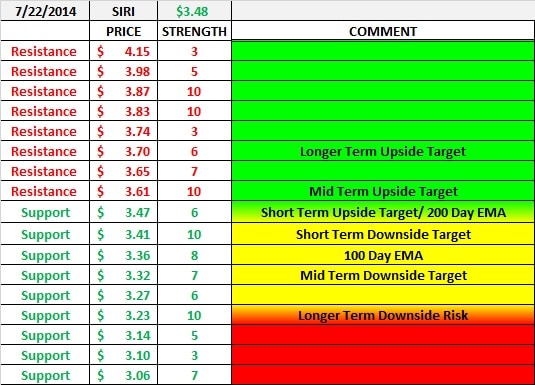 Exponential Moving Averages