The biggest news today is that the EMA chart has removed all bearish signals.  Short, Mid, and Long term signals are all now in bullish territory.  The more interesting development is that the 5, 13, and 20 day moving averages are all sitting at $2.75, while the 50 day average is at about $2.70.  Simply stated, these moving averages could not be more tightly wound.  In my opinion the equity will soon be looking for a reason to move.  The biggest issue is which direction that will be!
Exhibit A
The recent trend is bullish.  In the course of about a week we have seen 4 caution flags go green and three warning flags do the same.  The behavior has been bullish.  That does not mean that the equity will run just yet.  This is more like a bullish trend following a bearish one to get us back to more neutral consolidation ground.
Exhibit B
Liberty has been defending the price.  The company has been adding shares, and I suspect that will continue   The worry might be that when Liberty exits the trading activity  the stock will fall.  The good news is that Liberty supporting the price is helping to raise moving averages like the 50, 100, and 200.
Exhibit C
Auto sales look to be at levels that will mean decent headlines.  Decent auto news is always beneficial to SiriusXM.
Exhibit D
We can know the key levels of the next move and be strategic in our plans.
Simply stated the ares that we want to watch are consolidation between $2.70 and $2.80.  The equity has a bullish bias, and the desire would be to see $2.75 hold.  The support resistance level in the mid $2.70's is a bit of a moving target.  There is strength in a level here, but pinning it down is challenging.  This morning it was at $2.75.  This afternoon it is shifting up to $2.77.  This happens when an equity consolidates.  The strike points are $2.70 $2.75, and $2.80.  If the equity can pass $2.75 on volume it will likely test $2.80.  If it dips below $2.75 on volume it will likely test $2.70.  That gives a savvy trader room to work with.  The danger is that something compelling can send this below or above the range in short order.  It is almost better to trade a smaller portion in this range and be aware of the trigger points to act.
My strategy would be to give a couple of cents leeway.  On the downside I do not worry unless $2.68 is broken.  If that happens on volume, look for the next support at $2.64, then the 100 day EMA at $2.57 after that.  On the upside I am a looker at $2.80, and then a buyer if it passes $2.82 with an understanding that $2.85 to $2.90 would be the short term crest until news.
I am also introducing a new feature to the analysis.  It is something I have done previously several times over the years, but I think it will be a good tool going forward.  I am creating a mock account with 1,000 shares of SIRI.  The mock account did a buy today at $2.76.  I will explain the mock account in detail below.
Volume
The day started out with good volume and then it evaporated.  Classic consolidation behavior!  What we want to see as compelling volume is volume that is 10% to 15% higher than the 200 day average volume.  On the other side of the coin, we do not want to see volume below 45 million.  If that happens it means that the equity is cresting now.  Consolidation on 50 million shares for a few sessions is ideal.

Support and Resistance
As stated, we are seeing a mini battle happen here.  The level in the mid $2.70's is in flux and battling over a few cents.  This is part of where the Liberty influence comes into play.  Watch $2.75 and $2.76 closely and how the equity reacts at those levels.  It is wanting to hold $2.75, but is hesitant to pop above $2.80.  With the moving averages sitting right in this same area it creates an interesting dynamic.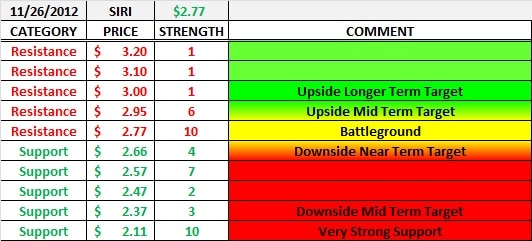 Exponential Moving Averages - EMA's
The exponential moving averages are now all green.  There are no caution flags, nor any warning flags.  However, I would like you to focus on the fact that three of the averages are all at $2.75.  This means that this equity could easily begin to show cautions and warnings.  The trend is bullish, so until that reverses we simply need to watch the flags.  If they remain green then we are in good consolidation.  If the trend reverses, then we want to be aware of the key levels I referenced above.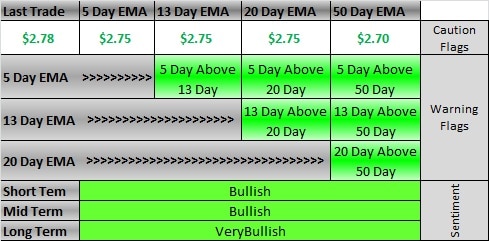 Mock Account
This mock account has three categories.  There is CORE, which is the core shares that I intend to hold longer term.  There is OVER CORE LEVEL 1, which are trading shares.  There is OVER CORE LEVEL 2, which are also trading shares.  The concept is simple.  My sentiment is that over time SiriusXM will provide a good return.  However, I want the ability to trade and capitalize on the natural moves a stock makes.  The goal is to add to my core position and grow it by trading my over core position.  When the technicals seem more certain, I will trade all of my OVER CORE.  When there is some uncertainty I will trade only my LEVEL 2 OVER CORE.

My buy was at $2.76 today and I have 500 shares in Core, 250 In Over Core Level 1 and 250 in Over Core Level 2.  I will update this account daily and notify readers of activity in bullet points.  I will also establish targets in this section.  Here is my current strategy with the mock account:
Consider a sell of Over Core 2 (250 shares) at $2.82 if volume upon reaching that level is light
Consider sell of Over Core 1 and 2 if equity dips below $2.68
Leave Core Position in tact on upward moves.  Consider a sale of core if equity breaks $2.62.