It has been a couple of weeks of frustration when it comes to SiriusXM.  One day the technicals look bad, the next they look good, and so on.  After see-saw moves in both directions and consolidation being the operative word of the day, it finally appears that we are seeing some light at the end of the proverbial tunnel.  This technical update, a daily feature for SiriusBuzz Premium members, is being made available to all readers to thank you for your readership and to expose you to the type of REGULAR COVERAGE SiriusBuzz Premium members enjoy.
Technical analysis requires constant updating.  It is nearly impossible to gauge the nuances and shifts in an equity unless you look at the data on a regular basis.  That is what we do here at SiriusBuzz Premium.  We look at various factors every day and offer up a report similar to the one below.
December 3, 2012 Technical Report
We are finally beginning to see a light at the end of the tunnel that could provide the next direction of SiriusXM.  While it is still too early to call a major pop or a major dip, we have the signals in play and identified the safety nets.  This should provide investors with better insight so that they can maximize their trading potential.  Bear in mind, each investor has their own goals, risk tolerances  and objectives, so plan accordingly.
Before moving into the specifics, I would like to set the stage for the non SiriusBuzz Premium members.  Over the past couple of weeks we have seen the technicals point to a correction of sorts, as well as consolidation.  The Exponential moving averages have displayed caution flags, warning flags, and erased them as well.  Often we would see a shift in sentiment only to see it fail the confirmation test.  As the equity went from short term bearish to short term bullish it consolidated.  While many technicals are not yet definitive, the trending is looking positive.  We saw the shift Friday, and got a moderate confirmation today.
It is important to bear in mind that the macro-economic situation can play its hand in what transpires with SiriusXM.  SIRI demonstrated resilience over the past few weeks while other equities tumbled.  That resilience appears to now be paying off and the trend is confirmed as bullish.  Before we run off expecting $3.00, we have to get into the details.  This equity is still consolidating, it simply now has a bias to the bullish side.
Volume
I love to watch volume.  It is one of the most simple technical indicators.  If something moves on big volume there is usually strength behind the move.  When volume dries up the move is typically finishing up.  Many traders have been quite successful simply by watching volume.   With SiriusXM there are a few levels to watch.  Strength is volume of 85 million shares or more right now.  Consolidation is 45 million to 65 million, and weakness is at less than 45 million.  Today we saw more consolidation volume.  The good news is that it is happening with a bullish bias.  That is noteworthy.
Support and Resistance
Support and resistance is a bit tricky at the moment.  We have seen a dance with a support and resistance level between $2.74 and $2.77.  Today the equity held the line and closed green into the $2.80's.  This is a positive development as it strengthens support at $2.76.  There are some key levels investors will want to focus on.  If the equity approaches these levels you will want to see what type of volume it is happening on, and whether the equity can pass that level with volume or simply bounce off of it.  Bear in mind that slight overshoots happen often.  You will want to make an intra-day judgement call if the equity approaches these levels, or better yet, have already thought about your strategy.  I share my strategy in a mock account that was set up last week (More on that below).
The key levels we want to focus on involve support and resistance levels as well as Exponential Moving Average (EMA) levels.  From the support side we have $2.77, $2.70, $2.65, and $2.60.  It just so happens that just below $2.77 we have the 5, 13, and 20 day EMA's.  The 50 day EMA sits at $2.70.  I like to watch two levels up and two levels down on near term action and possibilities.  This would imply that we want to watch $2.77 and $2.70 below.  From the resistance side we have $2.95 and $3.00.  However, while not listed here, I feel that $2.87 will present a challenge and actually show up in the support and resistance chart in the near future.  Thus, we want to watch $2.87 and $2.95.  What we are looking for is a move past these levels on strength (high volume).  You will see this play out in my trading strategy below.
Exponential Moving Averages - EMA's
The EMA's remain green, and confirmed that today.  We are even seeing the early signals of these averages spreading out a bit.  The concept of exponential moving averages is simple.  We want each successive average to be higher than the next to be bullish, and lower than the next to be bearish.  The top band on the chart shows the prices.  This is where the caution flags would develop and be shown in red.  Currently we are all green, but you should note that the 13 day and 20 day price are identical.  Should the 13 day dip below the 20 day, it would cause a red caution flag.
Savvy traders use these early indications to gauge direction earlier than other traders.  The matrix below shows the warning flags.  Currently we are all green.  It is possible for a caution flag to develop without a warning flag developing.  Typically if a caution flag comes up, it will soon be followed by a warning flag unless the current trend is broken.  This is why we watch volume and support and resistance levels as well.  Lately the EMA's have been consolidating and getting very close together.  This is where confirmation of a change comes into play.  By example, Friday we went all bullish and today we confirmed that.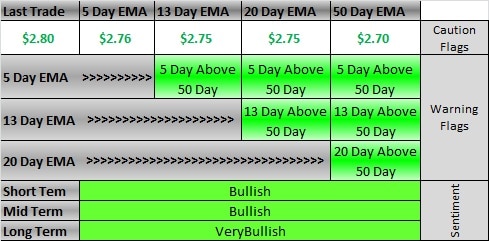 Bear in mind that these averages are all very tight.  If SiriusXM were to close at $2.74 or below, it could set up caution flag.  A close of $2.72 and a warning flag would go off.  This is the first time in a couple of weeks that we actually have some wiggle room between the current price of the equity and the triggers.  That is why for the first time in a while we can say that the technicals are looking good.  What we want to see is SiriusXM maintain a position above $2.80.  It will serve to widen the EMA spread a bit and allow even more wiggle room.
Mock Account
Several times in the past I have set up mock accounts.  With SiriusBuzz Premium I felt it made sense to do so again.  This mock account was established with the equity at $2.76.  Aside from the initial buy, there have been no trades to date in the account.  My strategy is to have a core position, a Level 1 Over Core, and a Level 2 Over Core.  This account established a core position at 500 shares and both Over Core positions at 250 shares each.  The philosophy is simple:
Core - The stake that I invest because I believe in the long term prospects of the company.  These shares will typically not get traded unless there is a compelling reason to do so.  In essence these are buy and hold shares.  I try to build the core position, or my cash position by trading over core shares. 
Over Core Level 1 - This represents shares that are closer to core than to trading shares.  These shares will be traded on the right opportunity, but remain more conservative.
Over Core Level 2 - These are the shares that I am aggressive with.  These are the shares I use to pick up the nickles and dimes with that add to my cash or core position
In essence, by being disciplined and watching the equity regularly, I can participate in the shorter term moves while maintaining my long position.  The chart below shows my mock account.  Below the chart is my trading strategy developed for tomorrow based on the latest information.  Bear in mind that the cash account is $0, so I have no more buys at this point.

SiriusXM almost got to a level where I would have had a sell today, but it did not reach $2.85 on less than heavy volume.  The volume side of the equation was there, but the equity peaked at $2.83.  With today's action in the books here is my strategy for tomorrow.
Sell Level 2 Over Core if SIRI dips below $2.77 on moderate volume.
Sell Level 1 Over Core if SIRI dips below $2.70 on heavy volume
Sell Level 1 and 2 Over Core if SiriusXM touches $2.87 on moderate volume or less.
All of these moves are conservative and defensive in nature.  If the equity tests $2.87 and the volume is not heavy, I would consider that a crest, sell Over Core, and look to re-enter at a price around $2.80 (assessed as it happens).
Summary
If you haven't joined SiriusBuzz Premium, give it a test drive.  We have a 30 day money back guarantee.  The Premium side of the site offers regular technical updates, Bullet Points during the trading day, and in depth analysis that simply is not available anywhere else.  Why wonder about a strategy when you can collaborate about one?  Simply stated,
SiriusBuzz Premium
is the premiere place that serious investors in this equity get their information!  To join click the orange Premium tab above.
While SiriusXM is not in full fledged bullish mode yet, it is showing signs of developing a bullish bias.  Auto sales were good, the Q4 is shaping up nicely, and there seems to be positive future for the equity.  Pay attention to the macro-economic situation as it has been and could continue to throw a wrench or two into the works.