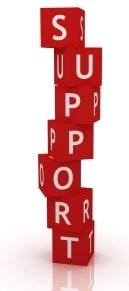 Another trading day has passed, and with it we have the equity trading within the specified range and doing so on moderate volume.  Consolidation seems to be the rule of the day.  Yesterday's big block trades near $2.80 did little to keep the stock moving upward.  Today we saw a close down on slightly higher than average volume, but below recent volume averages.  We are still not seeing volume in the 30's, nor the 70's so there is still more room to consolidate.
One big issue is that the equity chose to be in the low end of the range.  This brings down the 5, 13, and 20 day averages, but does not really serve to bring the 50 day average up.  What I wanted to see was the 50 day cross into the $2.70's to offer a little support above the $2.60's.  Alas, it did not happen today.  With this action we need to put $2.60 onto our radar screen as an exposure.  We also need to be aware that the $2.76 / $2.77 area is now strong resistance.  This tempers the enthusiasm for a test of $3.00 as it will take volume and energy to topple resistance levels.
I am still of a belief that something is in the news pipeline and I suspect that it might be SiriusXM Personalized Radio.  While Mel Karmazin does not seem too impressed with the Internet side of the business it is something that is an important factor moving forward.  As one comment stated, on the heels of the "All Radio's Are Active"free trial would be a great time to launch and put some marketing muscle behind SiriusXM Personalized Radio.
We still have the battleground in tact of $2.70 to $2.90.  The bias has now switched from the high end of that range to the low end.  How long that will last is unknown.
Volume
As stated, volume is higher than average, but below recent averages today, which I call consolidation volume.   What we are looking for is volume to dry up, or volume to get a substantial increase.  Preferably I would like to see the volume dry up first as it would be an integral part of calling a bottom and allow a strong support level to develop.

Support and Resistance
The S&R chart looks essentially the same.  The big factor here is that we are now below a strong level at $2.76. Even though this equity tested the $2.60's today, it did not break the 50 day EMA at $2.68.  That will be tomorrows test.  While I still feel that there will be a pop upward, I can not ignore the possibility of $2.60 and the gap at $2.58.  In my opinion a trip down there will be short lived.  A little bleep on your radar screen should be the $2.50 level.  This only comes into play if the strong support at $2.60 were to break.  Until we see light volume we need to be aware of downside risk.
I realize that I am playing both the up and down side of this equation at the moment, and that is just as frustrating for me as it is for you.  From a pure technical standpoint this equity wants to test $2.60, at least briefly.  From a sentiment standpoint this equity wants to hold levels and wants to stretch higher.Trying to trade this could be enough for ulcers to develop.  We saw the equity bounce off of the 50 day average at $2.68 today.  For several days now the 50 day EMA has been a strong support point.  It is hard to ignore that.  However, if $2.67 should break, it should test $2.60 with ease.  Playing it is the trick.
Exponential Moving Averages - EMA's
These are tightening up some more, but not yet coiled to the point of demanding action.  The trading range swings have created a bit of havoc here and it is getting difficult to get a clean consolidation.  It looks like $2.75 is shaping up to be a key level.  With today's trading we added a caution flag.  Thus we now have three caution flags and two danger flags, with a third on the cusp of happening if a close below $2.74 happens tomorrow.  To ignore that bearishness is foolhardy in my opinion.  In the same breath though, I feel that the dip will be short lived unless it breaks $2.60.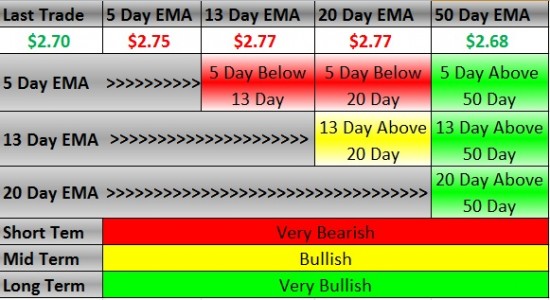 A close below $2.74 will add a danger flag.  A close of $2.79 will keep things in tact and serve to pull up the 50 day EMA.
What we want to watch for is the early action tomorrow to see if this equity tests $2.68.  If it tests it and bounces we will have a narrow trading day.  If it breaks we could see $2.60 and a wide range day.  If I were an active trader and looking to play this I would sell if it breaks $2.66 and look to assess the action at $2.60.  If this moves up, I would not be a buyer unless it passed $2.77 and look to see a crest at $2.82.  These are all day trader type trades.  Longer term players can sit tight, or play wider ranges.