Well, we have a new week upon us, and the close of last week was quite interesting.  The equity did test above $2.50, so that showed us that the wall there may not be as strong as I though, but then again, all issues can be answered by whether or not Liberty was in the market.
VOLUME
Volume was right around normal, but a bit lower than recent days.  There was no strength in the volume, and that is why, even if the equity held $2.50, it would not be considered a strong move to the upside.

What we want to see is some moves on good volume, and understand whether Liberty was in the market or not.  Over the last 24 trading sessions Liberty has accounted for an incredible 30% of the volume.  My main focus is what transpires when Liberty steps away from buying.
Support and Resistance
I did make a minor change here.  I gave $2.50 less strength.  As stated above, the equity was able to test above that level during trading.  In my mind this means that Liberty could walk this up above $2.50 again if they buy in any meaningful blocks.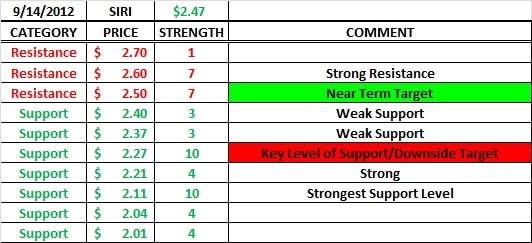 What we want to see here is how the equity behaves at a level around $2.50.  If SIRI can close above $2.50 it will be a technical victory on both the support and resistance technicals as well as the EMA's.  On the down side, watch for $2.40.  We want to see SIRI hold the line there.  Remember, the next strong support is all the way down at $2.27.  A move there is not the end of the world, as the longer term SIRI story remains in tact.
Exponential Moving Averages - EMA's
Sirius XM is still flirting with danger here.  There is still a red warning flag up, and the levels are dangerously close to putting up a second flag.  Note that the equity closed below the 5, 13, and 20 day averages.  You should also note the relative safety at the 50 day EMA, which is 11 cents away.

What we want to see is a close above $2.50, and preferably something around 2.54.  This would allow some breathing room.  Right now things are tight.  I can see this equity testing $2.50 just as easily as I can see it testing $2.40.  The key is Liberty Media, so we will have to watch for Form 4's.  Given the action on Friday, I would guess that they were in the market