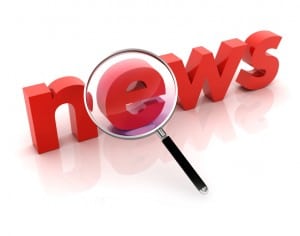 Today I am providing the SiriusBuzz Premium Technical Update to all readers.  Some information in this update relates to previous Premium articles and therefore may be difficult to follow for non-members but, most of the information will be relevant to all readers.
The action today was pretty much what was expected given the anticipation of Mel speaking at the Liberty Media Investor Conference tomorrow, and then the lack of any pre-announced news today.  In a bullet point this morning I noted that the equity appeared to be willing to test $2.70, but that if news did not develop that $2.66 was going to be revisited.  The action today and the bullet point this morning coincide with my opinion that absent any compelling news that this equity will retest $2.60, fill the gap at $2.58, and could now even move down to test the 50 day moving average at just below $2.50.
While that may all seem like doom and gloom, I am still bullish on the equity in the mid and long term.  Inn my opinion these moves lower will be short lived just like the moves that I outlined when the equity went to $2.33 and then popped, and when the equity went to $2.44 and then popped.  Those that buy and hold will likely remain in position.  More active traders may try to take advantage of these moves.  The near term target remains back up at $2.75 with a mid term target of $2.80.
Volume
In yesterdays report I noted that the low volume on Monday was the behavior of consolidation and uncertainty.  I also noted that the battleground for SiriusXM currently sits between $2.60 and $2.70.  This held true today.  While volume of 80 million shares should have allowed this company to offer up a stronger test of $2.70, it instead demonstrated that there is indeed a battleground and that drifting down lower may well be in the cards.

As I have discussed in the past, volume is an indication of strength and weakness.  When an equity makes a move on high volume there is strength in that move.  In my opinion the market is in a bit of a quandary surrounding the Liberty Media Investor Conference and whether or not Mel Karmazin will offer up any golden nuggets there.  Essentially this equity wants to test lower levels, but is fearful of compelling news hitting the wire.  If news hits this equity can run to $2.75.  If it does not, then$2.60 and perhaps a brief visit $2.50 are quite possible.  This creates an interesting dynamic and decision process for active traders and those currently on the sidelines.
Support and Resistance
The support and resistance chart has seen some levels consolidate.  This is normal behavior.  What the chart below illustrates is the battleground, strength of support and resistance, as well as upside and downside points of interest.  It should be noted and reiterated that Mel speaking tomorrow can cause two courses of action.  If there is subscriber news, guidance, or something material, the equity will test the top tier of this chart.  If the event tomorrow brings a sales pitch and nothing material I would watch the support levels closely.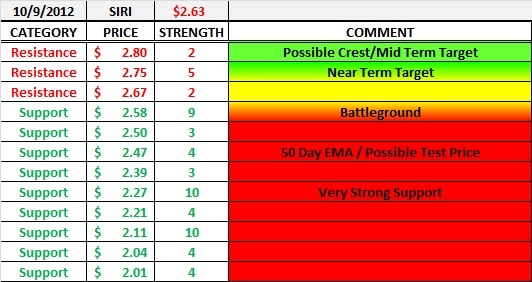 The key here is watching the equity closely in the morning.  What you will essentially be seeing is where the street is placing its bets.  If the equity drifts to$2.60 on decent volume then the bets are that no real news will develop.  If the equity reaches up to $2.67 then the bets are that there will be positive news.  Understanding the betting landscape can allow a savvy and fast trader to benefit, but the action can literally change at a moments notice.  Buy and holders can actually sit back and enjoy the show.  What we want to watch for is the volume (or strength) of moves at the equity nears key support and resistance levels.
Exponential Moving Averages - EMA's
The EMA's remain pretty much in bullish territory, but one small caution flag did appear because the closing price was below the 5 day moving average.  The goal in EMA's is to see each successive average higher than the next.  That dynamic remains in tact, which is why the price point is red rather than the blocks below.  There is a moderate 5 cent gap between the 5 and 13 day averages, and the gap narrows between the 13 and 20.  There is actually still room for SiriusXM to fill the gap at $2.58 and keep an overall bullish trend in tact for the mid and longer term.
If SiriusXM closes at $2.53 or higher, all bullish signals will remain.  Essentially this equity could test the 50 day EMA intraday and no red flags would develop.  If SiriusXM closes at $2.67 or higher it can preserve the current gaps between the successive averages and even pull the 50 day EMA up slightly.
Summary
It all hinges on news.  Actionable news means testing $2.70 or higher.  A typical sales pitch (even if positive) will likely let this equity at least test $2.58 with a chance at $2.50 being tested.  My opinion is that any dip will be short lived and the maximum level of a dip will be testing the 50 day EMA.  Early trading tomorrow will indicate where the traders are betting.  Stay Tuned!