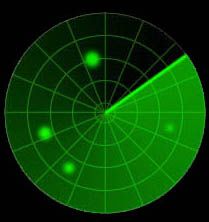 Even with the trading action today, most of the technical indicators remain bearish in the near term.  We did get some volume in the second half of the day, and it was enough to carry through the 50 day moving average, but it was nowhere near enough to pull this equity to a test of the resistance at $2.73.  What will next week bring?  That is what we look to the technicals for.  As stated, they remain bearish.  Are the $2.50's still in the cards?  In my opinion they need to remain on your radar screen.
When I look at this equity I look at the next steps, and then the second step.  It is almost like chess.  You can plan your moves, but the variable is the move your opponent makes.  So lets look at this a move at a time:
1 move up is strong resistance (8) at $2.73
1 move down is moderately strong support (7) at $2.60
In between those 2 numbers we have the 50 day moving average (a safety net of sorts) at $2.68
2 moves up we have weak (3) resistance at $2.83
2 moves down we have moderate support (5) at $2.54
It will take a good amount of energy to (volume) to break $2.73.  It will take a similar but lesser amount of volume to break $2.60.  The tendency is that it is easier to go down than it is to go up.  Looking at the action makes it tempting to think that the equity will run.  The volume today certainly seems to have stopped a downtrend.  The difficult part is we are seeing "bi-polar" swings here rather than natural easing and changing direction.  We are getting moves without ever letting the volume fall off.  That breeds volatility.
Looking at it from a pure support and resistance standpoint, we can see a trading range developing between $2.60 and $2.73.  In my opinion there is not enough catalyst to present a real challenge to $2.73 as yet and perhaps some consolidation is in order.  I have felt that any lows would be short lived and that appears to be the case.  The same can be said for runs.  They do not seem to last long.
We have a convergence of the moving averages happening.  All averages are now within 7 cents of each other and it appears that the convergence point will be at about $2.70.  While I understand that calling the signals bearish may not be popular, it is what the charts are demonstrating.  Today's action, with a close at $2.69 served to remove 1 caution flag in the long term outlook.  That is worth noting as it has been my opinion that caution flags are typically the first signal of a reversal.  My concern is that a close at anything below $2.68 puts that caution flag right back up.
Volume
What we want to see now is compelling volume.  My gut tells me that we will not get it, which is frustrating.  We want to see the equity break $2.73 on 80 million shares, and preferably something over 83 million.  The move has to be bolder than the volume today.  I can see this equity doing a test of both the 50 day average and the resistance at $2.73.  If the volume looks to be trending light, then a dip or pop will present an opportunity for a quick trade.  If the volume is heavier than overshoots by a couple of cents will likely happen.
Support and Resistance 
We are essentially in the same boat as yesterday.  The data points have not really changed.  We have resistance at $2.73 and support at $2.60.  In my opinion it is still easier to test a bit lower than it is to go higher.  If the equity lacks compelling volume on Monday then drifting lower would be what I would watch for.  Remember, as bullish as today looked, it never tested $2.73.  That is noteworthy.  It also bounced off of $2.60, which should be noted as well.  I would say that Monday brings a bottom of $2.65 and a top of $2.74.  Pull 2 cents off of each direction and you have a narrow range of $2.67 and $2.72.  It is not much of a spread, but if you were looking to make a move that is the target area.  For the moment $2.60 and $2.73 are the focal points.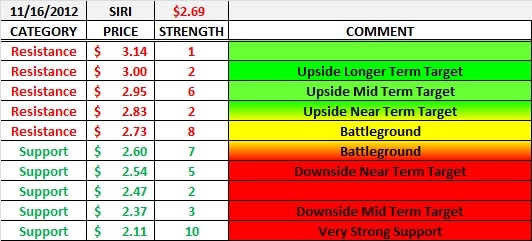 We essentially have a range between $2.60 and $2.73 right now.  The wider range is $2.55 to $2.73.  I have moved up the battleground from $2.55 to $2.60 based on today's action.  I also moved the downside near term target to $2.54 (the second step down).  What we want to watch for is the action at $2.73 and at $2.68.
Exponential Moving Averages - EMA's
This chart remains similar to yesterday with a few notable changes.  The 13 day and 20 day average each came down a penny.  The 50 day came up a penny.  The caution flag in the price of the 50 day was removed and is green again.  That being said, the position is about the same.  Very bearish in the short term, bearish in the mid term, and neutral in the longer term.
What does it take to reverse the trend?  A close above $2.77 could remove a warning flag.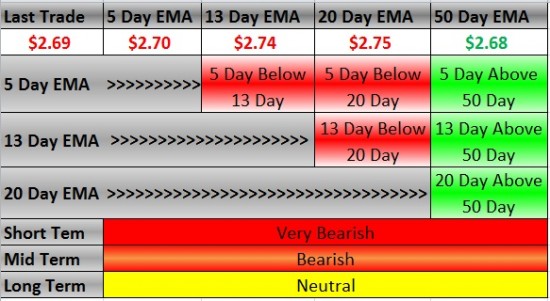 What we want to look for is the caution flags to fall off and then the warning flags.  We accomplished removing one caution flag today.  We will want to see if that trend can continue.