SiriusXM (NASDAQ:SIRI) announced today that it would retire some high interest debt and the news kept the equity in decent position, but when looking at volume it is getting more clear that a consolidation mode may be in order.  Welcome to the wonderful world of looking at technicals!
Volume
Quite often people ignore volume, but the reality is that is perhaps the most simple indicator available to investors.  Did a move happen on a lot of volume?  If so, there must be some sound reasoning as to why.  It is almost too simple!  Volume can get tricky when we see it lessen substantially.  It usually indicates that the equity will consolidate.  Consolidation is not necessarily a bad thing, and in fact can be quite healthy.  The real question at this point is where that consolidation will happen, and I will get to that a bit later.
SiriusXM traded on lower than average volume.  This activity makes the cautions I have been outlining more pronounced.  What we wanted to see is the equity hold its line on above average volume.  What we got was an equity that held the line, but did not do so with very much conviction.  At this point we want to try to determine if this low volume is an indication that a consolidation phase will happen.  In my opinion that is exactly what we are seeing.  Watch tomorrows volume and action t see if the current market sentiment holds.
Support & Resistance
Support and resistance remained about the same as yesterday.  The company held the $2.56 level of support and had a close just above it at $2.57.  Only time will tell if SIRI can hold $2.56, but my suspicions are that it will be broken.  If that happens, we=here will the bottom be?  I actually see a consolidation happening as more of a process than an event.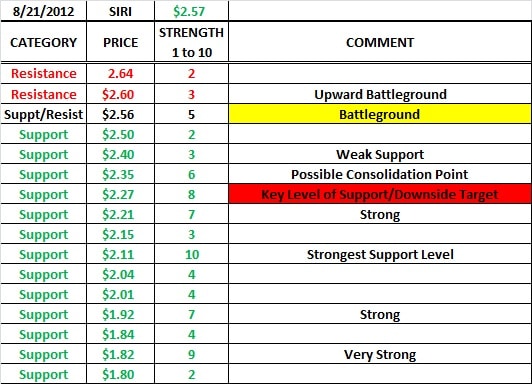 There are actually quite a few nominal levels of support below, with the strongest support at $2.27.  Key levels above that are at $2.35, $2.40, and $2.50.  For the moment it is my projection that this equity will drift toward $2.50 with some up days and down days.  If $2.50 is broken, it will drift toward $2.40.  The stock will remain trading within the $2.40 to $2,60 range for a while until a catalyst develops to put some volume back into the equity.
Exponential Moving Averages (EMA's)
The EMA's on SiriusXM remain bullish, as does the overall trend for the equity.  Some bearish signals, such as those that relate to consolidation does not mean the outlook of the company has changed.  SiriusXM did manage to stay above all levels, but there was actually a bit of a narrowing between the respective averages.  The gap between averages is still quite big, but these subtle clues are what savvy investors look for, and exactly the reason why, if you are going to trade on technicals, you need to keep yourself updated regularly.

With this new data in hand it is time to evaluate what to watch for.  If SiriusXM is going to close down, we are in danger of it breaking the 5 day EMA at $2.55.  As you can see, even when everything looks bullish, it sometimes may not take much to shift that opinion.  This is why those caution flags I have been writing about are so important.  We are essentially at a crossroads battleground on three fronts.  Volume is lower, support at $2.56, and a 5 day EMA at $2.55.  If Sirius can hold the line at $2.56 it will be a bigger accomplishment than many may realize.  I see the equity weaning off just enough to test $2.50 in the near term and perhaps even break down into the mid $2.40's.
Summary
As of right now I see SiriusXM taking a breather before it can run to new highs.
Happy Trading!