Well if nothing else SiriusXM (NASDAQ:SIRI) keeps things interesting.  The equity will closed the week looking strong and establishing some new data points for investors to consider.  With options expiration in the cards for next week we could see some wild swings as the market jockeys for position.  Trying to understand the possibilities beforehand is paramount for active traders.
Volume
Well we are seeing things in the volume category present interesting data.  The good news is that volume is still strong and in fact the volume on Friday was stronger than we saw on Thursday.  The more shares that trade at any given level, the stronger technical support will be at that level.  Seeing above average volume is a good thing.  Seeing massive volume at high levels is a great thing.

It will be interesting to see how long volume above 100 million shares can last.  This week presents options expiration, which is yet another factor that can keep the SiriusXM story interesting.  As usual, keep a close eye on volume.  The day it lightens up again will be a big day in the technicals.
Support & Resistance 
Ahhhhh!!!!  The beauty of just one additional trading day helps to develop more clarity.  As I have stated before, I see $2.26 as being an eventual consolidation point.  While this may seem disappointing to some, it is actually very healthy.  Additionally, the longer SiriusXM stays above, the more likely it is to be an even stronger support level.
Today's action helped to prove that $2.35 and $2.40 have some strength.  This could narrow the potential trading range to an area between $2.35 and $2.50.  It is almost getting to the point where I am getting ready to move my short term consolidation point up to $2.35.  I place a short term peak at $2.50 with a longer term goal of $2.70.  I still place risk at a drop to $2.26.  The big question are what are the odds of each?  I think next week will be the beginning of some consolidation, and see this equity dropping lower to $2.35 and possibly $2.26 before reaching higher to a short term peak of $2.70.  For active traders, the next week may provide a great trading opportunity.  The options expiration on Friday will be an interesting thing to watch.  If the equity can hold near $2.50, it would be a major victory for longs.  Alas, my call is that it will try to break down to $2.26.  Let's let a couple more trading days present some more data.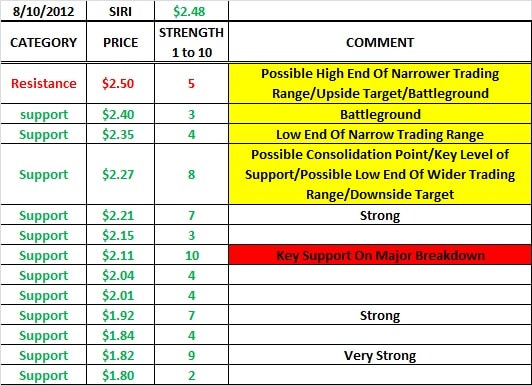 Support and resistance remains very similar to my previous report.  There is now resistance at $2.50, and above that, no real issues with allowing this stock to run with the exception of valuation and multiples.  Even those present their own bag of tricks now as the street begins to digest the value of the Net Operating Losses (NOL's).  Key levels to watch are the action near $2.50 and $2.40.  I have a distinct feeling that early in the week SIRI will do some trading above $2.50 to test those waters.  Watching the sizes of the bid and ask will be a key element in establishing the sentiment of the street.
Exponential Moving Averages (EMA'S)
The EMA's are still looking quite strong.  The closing price price remains above each respective EMA level and the gap between each level is growing.  At this point the EMA's simply say BULLISH.  The real trick is seeking out the earliest possible point that any weakness develops.  It may take some time to develop, but when it does investors that follow closely will be in the know.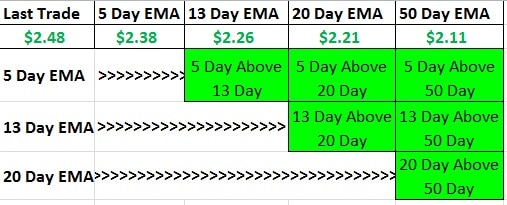 With all of the gaps between the averages looking so good, it might seem that the EMA data carries less use right now.  That could not be further from the truth.  Now is when you watch closely for a reversal.  It will happen at some point and the first hint is when the closing price drops below the 5 day average.  While that does not present a bearish trend, it is the first step in one.  The key here is seeing a close above $2.40.  That price represents the 5 day EMA as well as key level of support.
EV/EBITDA Multiples
This is perhaps the subject that gives investors the most angst and frustration.  By example, investors applauded analyst John Tinkers $3.35 price target, but few actually get to see the model he uses to develop that target.  In contrast, investors seem to take exception to Matthew Harrigans price target of $2.10, but again, do not see the model applied to get there.
Lets look at the Tinker analysis.  There are some assumptions in there that may or may not happen.  Tinker is accounting for 250 million shares to be bought back this year, and another 400 million shares next year.  He is also not considering the debt paydowns that are happening.  This could change the dynamics an outlook in dramatic fashion.  The Tinker analysis is fine, it is just that there is extreme importance in understanding what is behind it.
My chart on the left applies the current trading of SiriusXM and the multiples.  The chart on the right puts out my 1 year target with assumptions.  As you can see I apply various assumptions in arriving at a price target of $3.10.

My assumptions include a share buyback of some 250 million shares, debt at $2.45 billion, $1 billion in cash, and Adjusted EBITDA of $1.05 billion.  While some will argue that my EBITDA number is low, it is where I feel the company will start off its guidance for 2013.  Even if you feel it is low, you can see the model in getting to where I got and adjust accordingly.
Summary
My current consolidation point remains at $2.26 though $2.35 is getting more and more real.  My current peak target is $2.70 on a spike.  My current trading range is $2.35 to $2.50.  Options expire Friday and will tell an interesting story.  My long term price target is $3.00 based on a conservative multiple of EV/EBITDA of 19.  This excludes the NOL's, which really will have an impact.  Applying true valuation to the NOL's would bring my target to $3.35.