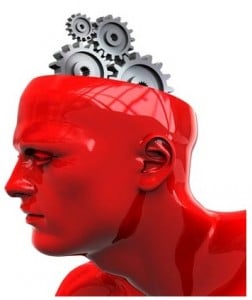 Today the technical update is being made available to all SiriusBuzz readers.  These daily updates are typically for member of SiriusBuzz Premium, but the fact of the matter is that we value all readers and want to ensure that our regular readers get insights as well.  For details on SiriusBuzz Premium please click on the orange "Premium" tab above.
From a technical standpoint today was an interesting day.  We got some answers to questions relating to a possible direction move, but not every cloud has cleared.  SiriusXM removed the two caution flags from the exponential moving average chart (a signal discussed over the past two days with SiriusBuzz Premium members), closed ab above a major technical support/resistance level, and did so with volume just shy of what I would have liked to see on such a move.  The biggest clouds relate to whether or not Liberty Media is still supporting the share price, and the ever more bearish macro-economic picture.
From a pure technical standpoint SiriusXM seems to be turning from a short term bearish situation to one that is more neutral, or bullish.  Doers this mean that $3.00 is around the corner?  Not quite yet, but it is looking more feasible now than it did just a week ago.  There are indeed some key levels investors will want to watch:
$2.37 - Key support level and the 200 day exponential moving average
$2.47 - Support level
$2.55 - Key support level and 100 day exponential moving average
$2.60 - Key support level
$2.68 - Key support level and 50 Day exponential moving average
$2.77 - Key resistance level
$2.95 - Key resistance level
As you can see, these levels to watch are in a wide range.  Technicals help us to narrow down the possibilities.  I like to keep 2 levels up and two levels down on my radar screen as potential on a run or a dip.  That would mean that we are now focused on the area between $2.60 and $2.95.  With the equity closing in the middle of that range we need to refine further, look at trending, and consider possible activity that can influence moves.  As always, we need to be sensitive to news.  Such as car sales, a royalty decision, and Liberty activity relating to share purchases and an FCC decision.
When looking at technicals with this equity I tend to focus on a few major points.  Volume, Support and Resistance levels, and Exponential Moving Averages.  I have found that these three technical indicators work well in seeing short term movement and indicating longer term direction.
Volume
SiriusXM traded on decent volume today.  It was just shy of the 85 million that I would have liked to see on breaking a resistance point, but was higher than the 200 day average volume.  My concerns are that the volume was lighter than the near term, but the wild card is Liberty Media.  When Liberty is a buyer of big blocks it skews the data slightly.  It is not that the Liberty data should be ignored  because it shouldn't.  It is a function of the market as it relates to SiriusXM.  We simply need to be aware of such events and how they can skew data in the shorter term.
SiriusXM is not yet exhibiting the type of volume it will take to make a meaningful run at $2.95.  In my opinion that needs to happen on volume approaching 100 million shares.  It can reach those levels by pecking away a bit at a time, but the tenancy with this equity has been to bite off chunks at a time when moving up.  What we want to watch for is consolidation at current level;s supported by volume of at least 50 million shares.  If we see volume dry up it is usually an indication that a move in a particular direction is finished and a break or a reversal is needed.
Support and Resistance
We have some new changes in the Support and Resistance chart.  With the trading action today, the strong resistance at the $2.74 level was broken on decent but not compelling volume.  This served to move the resistance point to $2.77.  It should be noted that while the $2.77 level is strong, it is not as strong as what we had earmarked for $2.74.  In this chart I have labeled it in black and as both support and resistance.  SiriusXM closed just above, but it appears that the close was painted at $2.78.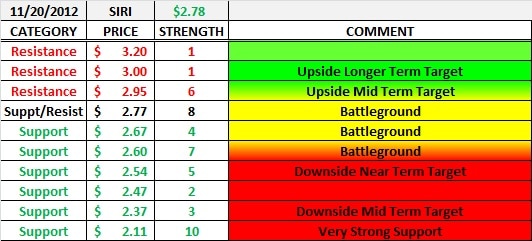 What we want to watch for is the behavior of SiriusXM at $2.78 and on what volume that action happens.  I can easily see this equity being volatile for a few trading days as it seeks out a direction.  This will become more clear as you read about the exponential moving averages below.  We essentially have a battleground with a base at $2.67 and resistance at the current closing price.  If this equity is going to stay above $2.78 we want to see it test at least $2.84 and do so on volume of at least 80 million shares.  If this equity gives up $2.78, I see the support and 50 day moving average at $2.68 being key.
Exponential Moving Averages - EMA's
On Friday we saw a caution flag turn from red to green.  On Monday we saw a second caution flag make the same transition.  These are key elements that savvy traders look at in a reversal of trends and was a topic in recent SiriusBuzz Premium publications and bullet points.  Today we saw the remaining caution flags turn from red to green.  There is a trend happening that was barely perceptible just two trading days ago.  This is why watching and being a student of technicals on a regular basis is imperative for an active trader.
We have also seen the sentiment on the short term upgrade from bearish to neutral.  This type of action typically happens as the caution flags change.  Essentially caution flags give us the first indication that a warning flag may appear or be removed.  The 5 day moving average has picked up a penny and is now just two cents away from removing a warning flag.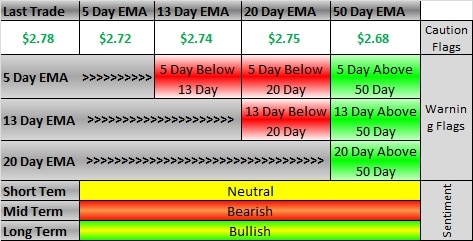 As you can see, the 5, 13, 20, and 50 day averages are all very tight.  When this happens an equity tends to break one direction or the other.  We have seen caution flags removed and the equity closing higher.  There are bullish actions here that we should not ignore.  They are not yet very bullish, but the trend of short term negatives seems to have corrected over the past two sessions.  Tomorrow offers us a key day because it will either confirm this new bullish trend or will see us consolidating.  Watch the early action closely and remember the immediate downside risk is at $2.68 and the immediate upside is about $2.85.  Throwing a little more into the mix, watch closely at $2.74 and $2.75 as these are the 13 day and 20 day EMA's.  If SIRI tests these and bounce off of them it is bullish.
Summary
Sirius XM is just now reversing a short term bearish trend.  That does not mean that it is suddenly bullish.  We want to see confirmation.  However, the more active traders may find these early hints that we have seen over the past few sessions as a signal to make a move.  It is more risky, but can carry better reward as well.  With the moving averages so tight this equity will be sensitive to news.  Essentially it is seeking a direction to gravitate to.  Keep a close eye on the key levels that are closest to the current price and use volume to measure the strength in a move.  If you are interested in daily analysis like this give SiriusBuzz Premium a try.  After all, there is a 30 day money back guarantee.  Happy Trading!