Well, there is nothing real compelling at the moment in the technicals that points to much on the down side.   That is great news.  The risk involved here currently points to the fact that there is very strong support at $3.74, and this equity seems to be staying well clear of testing that in any meaningful way.  Despite a flurry of lawsuits, the company seems to be on good and solid technical footing.  Times like this can be nerve racking though.  When the Turtles filed suit, some looked at it as just another performance act trying to cash in.  Then Sound Exchange filed a similar suit.  With the recent royalty battles, that may not be a surprise.  With the labels now getting into the act, one has to wonder if there is a seriousness in these suits that has merit.  For that we will need to stay tuned.  It is one reason that, while there is strength here, a fundamental issue (lawsuits) can rear its head at any time.  This is why I do look two steps back.  The next strong support below $3.74 is $3.60 or so and the 100 day EMA.  Just keep that on your radar screen.
In my opinion the next bold move on SIRI will come in the form of an overall bullishness in the general market.  When that happens, this equity can test new highs yet again.  In essence, this equity will be strongly influenced by the overall market.  If that is the case, why bother with technicals?  The answer is that the SIRI technicals will help determine the strength of the move.  Right now the technicals look good.
Volume is picking up.  We see great support below, and little resistance above.  The EMA's are all bullish with no caution and/or warning flags.  The EMA's have a bit more breathing room between them, but are still constricted.  The story here is to simply be ready.
Volume 
Support and Resistance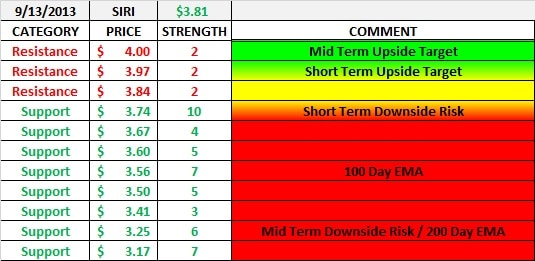 Exponential Moving Averages