There is a lot happening with SiriusXM right now, and the timing of this constriction may be very good.  The markets will start to see more action and more volume as summer comes to a close.  We are looking at a strong auto sector, and looking at a company that is executing quite well.  SiriusXM seems to have the proverbial ducks in a row right now.
The volume is still light, but the consolidation is keeping us within striking distance of a good move up.  The back and forth on price action has spread the resistance points out a bit.  The wall that existed at about $3.75 is now less strong, but we have a second hurdle at $3.78.  I have a short term price target of $3.75 with a watchful eye on $3.60.  My mid term upside target is $3.84.  It is my belief that it will take volume over 50 million to really test this level.
What we have are plenty of players that could have gotten in or out at current levels.  That means we are getting ready to move.  My suspicion is that the move will be up.
We want to see volume begin to pick up on small moves here.
The EMA's are improving slightly with the removal of a caution flag.  We still have two warning flags, and a danger sign of a third, but we are also seeing that a close at current levels or higher could remove a warning flag as well.  Watch the volume and watch the $3.70 level.  I suspect Monday will bring a low of about $3.67 and a high of about $3.74.
Volume

Support and Resistance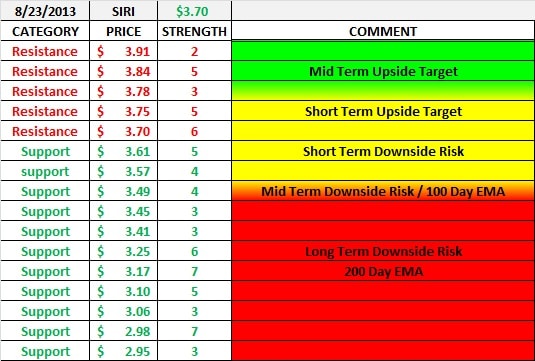 Exponential Moving Averages