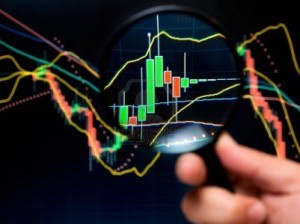 Well, we made it through an interesting day.  The Karmazin news was absorbed and the equity should be back on a somewhat normal track considering that earnings is fast approaching.   This is underscored by the fact that the volume was not massive. Despite the roller coaster of the last 24 hours, the equity did have some behavior that is noteworthy.  It tested down toward $2.85, bounced off strong, tested toward $2.95 and bounced off of that with strength.  The second half of the trading day was actually an easy call.
My opinion is that most people have started getting into their final positions before the call.  These times are always interesting because there are a few different schools of thought.  Some people do not like to hold through earnings, while other like to place bets on whether the news will be good or bad.  The next two days will have most investors taking their respective stances.
My thoughts on the call should be well known at this point.  I expect the company to report 2 cents (via averaging up).  That number will not excite many.  In my opinion the upcoming call is about everything but earnings.  What I think moves this stock to above $3.00 is 2013 guidance and an announcement on a share buyback.  If those things happen look out.  If I were a trader I would jump on any dip to about $2.85 to add to my position.
Volume 
We had decent volume, but not what one might have expected with the announcement we had yesterday.  This is actually GOOD news.  It makes the technicals actually reflect company performance rather than a one time news event.  The key for tomorrow is watching volume behavior as the equity approaches either $2.85 or $2.90.  A move on decent volume past either of those makes a possible crest at $2.95 to $3.00 or possible dip to $2.80.  In my opinion either of those tests will be short lived and the move will be determined very early in the session.  As I have been saying for over a week now, a savvy trader can pick up a nickel, but they need to be willing to lose as much as a nickel as well.

What we are watching for is volume above 80 million shares.  If the volume less it points to consolidation and the street waiting for the next catalyst.  If the volume is above 80 million shares we are still seeing investors jockey for their call positions.
Support and Resistance
Support and Resistance are quite telling as well.  As I have noted, there is little support within a dime, and little resistance above.  It literally means that there are distinct possibilities in either direction.  The trend is bullish and up, so I feel the greater likelihood is consolidation prior to the call with some new legs after the call. One good piece of news is that the 50 day average has now passed $2.60 and sits at $2.61.  While it seems a long way down, it is a key support area that we want to monitor in case things go really bad.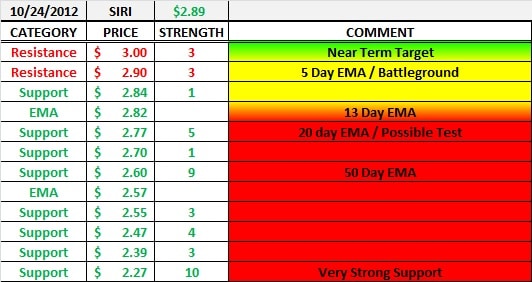 The key levels are the support level (as weak as it appears) at $2.85, the 13 day average at $2.82 and the 5 day at about $2.90.  With the equity closing at $2.89, we will want to watch behavior when the equity passes $2.90.  It can bring a pop to $2.95 or so.  Likewise an early morning dip to $2.85 or so is also possible.  Watch the volume at these levels closely.
Exponential Moving Averages - EMA's 
The story here remains bullish.  In fact, the close today actually removed a caution flag.  We still have healthy room between each successive average and an overall bullish trend.  In the next few sessions this equity will develop a new 52 week high in my opinion.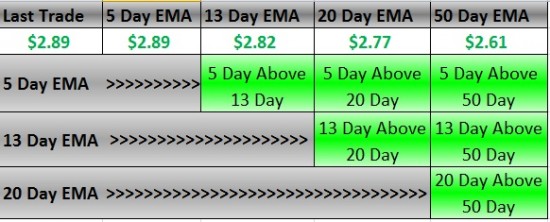 I remain bullish overall but do see some possible trades for a quick person willing to take on risk.  If I were an active trader I would really think hard before risking a nickel in an effort to try to pick one up.  My opinion is establish your position now and wait on the call to see the equity test highs.  At that point watch for the cresting behavior (volume backing off) and then execute a trade.
Summary
Caution and quick trigger fingers are the words of the day.  Traders need to be cautions.  Holders simply need to get through to the call.