If you have been following what I have been writing you are aware that I am very bullish on SiriusXM surrounding the upcoming Q3 conference call, but with some very specific parameters.  My theory is quite simple.  SiriusXM is trading at a premium based on 2012 numbers, but in a more reasonable range based on anticipated 2013 numbers.  The company issuing guidance will allow the street to carry confidence.
There are a few notable items that we saw today.  We saw the equity bounce off of $2.80 and we saw a couple of brief tests above $2.85.  We also saw this happen on slightly higher than average volume.  Essentially there is no conviction in ranging either up or down and this equity seems to be trading within a range.  The other thing we noticed is that the narrow up-stepping trading ranges we have seen for the past three sessions stopped today.
Is it time for a break?  It looks that way.  Will that break involve a trip below $2.80?  Perhaps, but there is relative strength there that is psychological if nothing else.  From now until the conference call the company will be in a quiet period.  That does not mean that no news will happen, but it does mean that the company talking to analysts calms down quite a bit.  If an analyst has not already gotten an outlook from the company, there will be nothing juicy until the call.  This could mean range trading, testing the 20 day average, or even testing the $2.90 range.  I will say that the trip from $2.90 to $3 should be easier and faster than the trip from $2.85 to $2.90.
Volume
Today demonstrates an example of cresting in many ways.  Yesterday the equity had heavy volume in the afternoon and seemed to be poised to make a run today.  This morning the equity decided to rest instead.  We went from 86 million shares to 62 million shares.  The upward pressure seems to be easing.  That does not mean a dip, but it is a potential sign of one.  This is where confirmation comes into play.  86 million was the crest and 62 million seems to indicate that.  Lighter volume tomorrow means it could be backing off.  These are the things an active trader wants to look for.  Remember, it is options week and that is an unpredictable beast!

What we want to watch for is whether or not the equity gives up more volume.  That should be indicated in the first couple of hours.  We want to watch the volume if the equity approaches $2.80 and $2.85.  Be cautious of a volume acceleration during the day as this is options week.
Support and Resistance
There is actually little change here.  As stated above, watch $2.80 and $2.85 closely.  It will take volume of 75 million or more to mean a serious move in either direction.  Anything less and it is simply within the proverbial zone.  The 5 day and 13 day EMA's did move up a notch.  That is something to be aware of as they do provide support levels on more than what typically encompasses establishing these levels.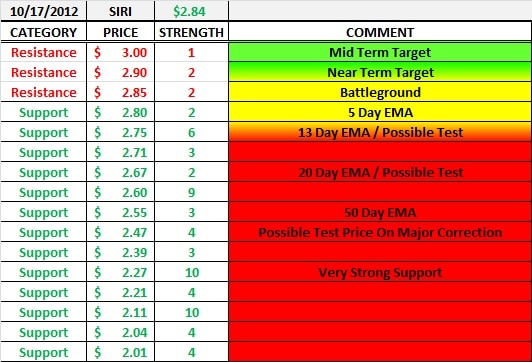 What we are fast approaching is a 20 day EMA level aligning with $2.70.  That is a key.  Breaking the 13 day could allow a test of the 20.  Remember though, this happens if there is volume of 75 million shares or more.
Exponential Moving Averages - EMA's
The EMA's are still bullish.  Note that the averages are all moving up, providing support with them.  It is also important to note that the gaps still have room to grow a bit before they get to big.   When we see these gaps at 8 cents or more between each EMA, we could be topping out.

We have room to close as low as $2.70 without really impacting the EMA outlook.  That is plenty of wiggle room.
Summary
Do not be surprised to see this equity trade in a range of $2.75 to $2.85 for the balance of the week.  Options could see a small run or a small dip beyond these levels, but in my opinion it will be short lived.  Volume at 50 million spells the range.  Volume of 75 million demonstrates a move with some strength.  Volume above 85 million shows real strength.  Happy trading.